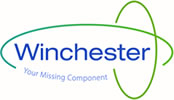 PT Winchester Ltd
Telephone: 01823 431885
sales@ptwinchester.co.uk

Visit Website


Company Information
Providing a complete range of high quality textile components tailored specifically to meet the needs of UK marquee and PVC structure manufacturers and hirers.
Videos

PT Winchester has been servicing the heavy textile industry for over 25 years. Modestly starting with braided cord we have built up an extensive range of items providing a 'one stop' solution for textile components from; sewing threads, cord, keder, webbing, zips and fasteners, however if you happen to need anything which is not on our shelves we will do our upmost to source what you need.
PT Winchester is also the official UK premium distributors of VELCRO® Brand Products and Cousin Trestec Ropes allowing us to offer the best possible prices on these products.
As well as all of the above we also offer a bespoke service for shock/bungee cord assemblies with a fast turnaround, just give us a call, email or visit our website and our friendly sales team will be happy to discuss your applications and help recommend suitable products.
| 01823 431885 | www.ptwinchester.co.uk | sales@ptwinchester.co.uk
Categories
Fabrics & Marquee Accessories
< Return to Exhibitors