Opening hours
Free Admission. Register to visit here.
Wednesday 17th October: 9.30am - 5.00pm
Thursday 18th October: 9.30am - 4.30pm
How to get to Newbury Showground:
Priors Court Road, Hermitage, Newbury, Berks, RG18 9QZ
By road: Easy access via the M4 from South Wales or London, or the A34 from Oxford or Newbury. There is ample free on-site parking. We are committed to making the Show as green as possible and ask you all to consider your environment and the effect your travel has on it. Therefore we have teamed up with GoCarShare to help encourage as many of you as possible to share car journeys by offering lifts. Just click on our page gocarshare.com/events/the-showman-s-show and add your journey, whether you are driving or looking for a lift, and they will match you with someone going the same way. It is also a good way to save money on your journey and make some new industry contacts on the way.
By rail: to Newbury. A courtesy bus will operate between Newbury Station and the Showground every 30min from 8.30am on the 17th & 18th of October. The last bus will leave the showground at 6pm on Wednesday the 17th and 5.30pm on Thursday 18th.
By air: Heathrow is under 45 minutes drive west bound along the M4. Bristol via the M4 east bound. Southampton airport via M3 and A34.
Aircraft: The nearest airfields are Oxford Airport 01865 844265; Wycombe Air Park 01494 443737; Thruxton 01264 772352 and Blackbushe Airport 01252 471300.
Balance your Showman's Show travel miles with Energy Revolution: We're working with charity Energy Revolution to balance your fossil-fuel travel miles to the Show. 100% of your donation will be invested directly into clean renewable energy - To work out the impact of your travel and to donate please use the simple Travel Carbon Calculator here. To learn more about this exciting initiative, visit the website.
Disability Access
Event Mobility Charitable Incorporated Organisation will be providing electric scooters and manual wheelchairs for the use of disabled, elderly and mobility impaired visitors. To reserve an electric scooter or manual wheelchair you can book on line at www.eventmobility.org.uk, print out an advance booking form from the website or contact the office on 01386 725391 to request a form to be posted to you. The charity asks £25 for an electric scooter and £10 for a manual wheelchair.
Dogs
Unfortunately dogs are not allowed in the Exhibition Hall so we advise visitors to leave their dogs at home. Guide dogs are the exception to this rule.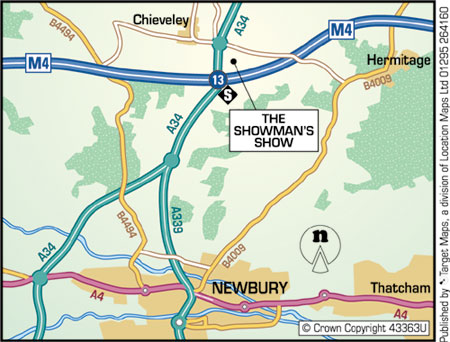 Accommodation

Hendersons Travel is the official accommodation provider for the Showman's Show. They offer a range of hotels from 2* to 5* near the event venue at Newbury Showground.
Visit their website here: www.hendersonstravel.com
For latest rates and availability, please call them on 01450 374471 or send them an email hawick@hendersonstravel.com.