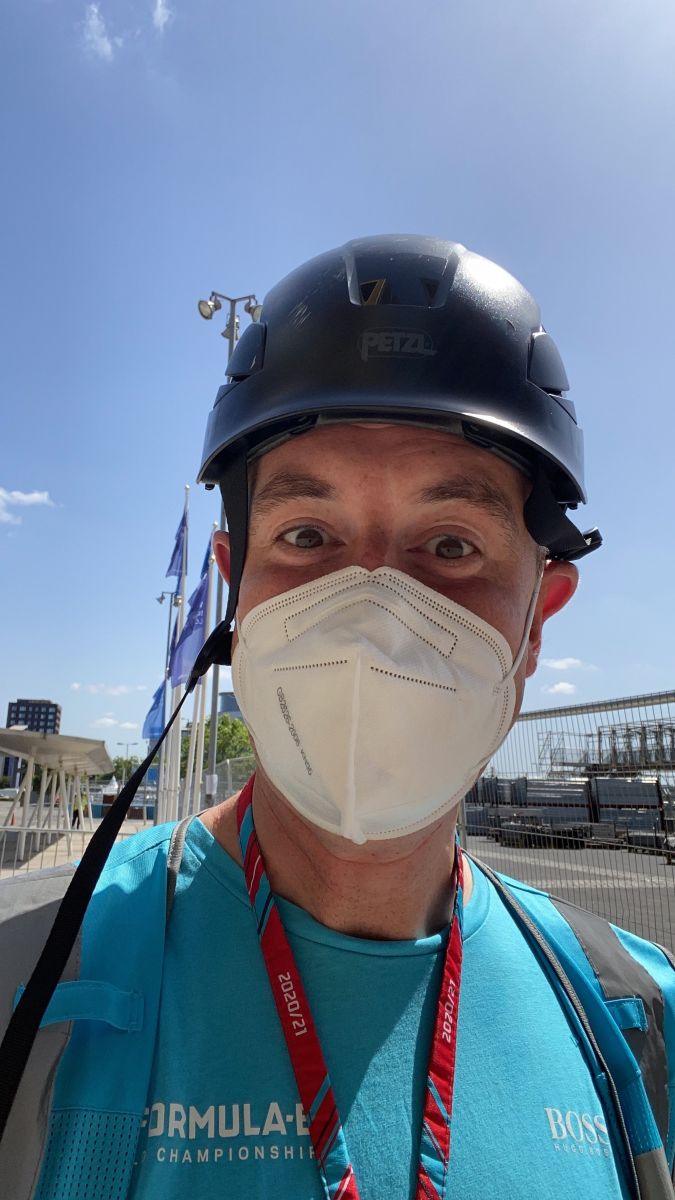 We caught up with LS Events' Operations Director, Steve Reynolds as he and his team come to the end of an incredibly busy summer that has seen them back at the sharp end of delivering major events.
Firstly, how did LS Events navigate its way through the lockdowns and what events have you been working on since the restrictions lifted on 19th July?
We were extremely lucky to continue working all the way through the pandemic on COVID response projects across London. Our aim was to keep event industry staff working and at their peak those projects kept over 2000 staff working, many of whom are freelancers and would have otherwise fallen through the gaps of the Government support.
For the LS Events team, the first event back was Between the Bridges, a socially distanced event launched in May that remains London's largest outdoor F&B space with Oktoberfest and Halloween experiences still planned to come. Lucy Blakey and Kate Ramsey led this project with Chris Davey overseeing site operations and it was great for them to get back on site and deliver an event.
From there Grace Noest, Martha Rees and Laura Bozic supported Jack Morton and the GLA with the commercial management for the EURO 2020 fan zones in June and July in Potters Field and Trafalgar Square. Working at this event delivering the bars and food trader management was very rewarding, especially as England got all the way to the final. The entire team left with some amazing memories.
For me personally, my first event was a COVID secure Formula E event at London's ExCel. It was our first time as local production delivery partner and the motoring series' first time back in London for several years. It was a great feeling to be delivering an event again, despite the unusual threat of an electrical storm during the second race on the last day.
We then moved on to South Facing at Crystal Palace Park where we delivered 12 shows throughout August. Laura Armstrong, Zoey Benjamin, Francie Tolland and Tyler Cole-Holmes had a great experience delivering these shows as well as several free community events and an Open Air cinema in the midweeks.
All Points East then followed at Victoria Park in East London. We worked with AEG Presents to deliver this show for 45k customers, which was with the new premises licence, confirmed at the end of July. This placed added pressure on all departments and particularly Iain Rogers, Suzanne Johnson, Gintare Einoryte and Harry Ford managing the supply chain. We cannot thank our suppliers enough for working with us through the ongoing challenges of logistics, haulage and staffing to deliver a first class show over the Bank Holiday weekend in August.
We also experienced a large number of Sponsors confirming their participation in the festival fairly late which proved a challenge for Milly Pestell who heads up our Partnership Production Team. However, by working tirelessly with our clients she was able to deliver fantastic activations across the festivals.
We finished our summer in Brockwell Park where Beth Smith, Kate Ramsey, Jamie Sherlock, Helena MacVarish, Julia Bruns and the team delivered Wide Awake, Mighty Hoopla and Cross the Tracks across three days in the sunshine. As expected, there were supply chain challenges following the late notice of the Government Step 4 announcement in July, but again, working with trusted suppliers delivered a great show.
Do you think you approached the events differently because of Covid both individually or as a team?
Everyone will know that the COVID-19 rules have changed several times and we purposely appointed a dedicated team member to keep abreast of the latest rules. This ensured that they were seamlessly applied to the various operations that we've been involved in over the last 18 months. We've also worked closely with Jools Bentley from J-EMSS who's helped us find practical solutions to implement these into the real time operations and event delivery.
There was a huge challenge for the industry to create a guidance framework (despite the desire), due to the ever-changing nature of pandemic. However, early on this year, based on our experience working on the COVID-19 response projects, we wrote a COVID-19 compliance plan which followed what little guidance there was available at the time enhanced by, our own experience. We then presented this to the local Public Health Directors from the London Boroughs where we were to be working. This allowed us to agree on a framework and enabled us to utilise and update the guidance in a way that would allow us to deliver safer COVID-19 secure events. This collaborative approach worked really well and when Step 4 was published in July we were able to quickly update our plans and be ready to deliver large capacity events safely.
What have been the biggest challenges?
Uncertainty! From the outset, the industry has been saying that uncertainty would be the thing that challenged us the most, and it certainly did and it remains an ongoing concern. The lack of understanding from the Government that events are planned months in advance was extremely frustrating at times and their unwillingness to give clear guidance, a support policy for COVID insurance or to set out an agreed timeline to re-opening, meant that the supply chain was brought to its knees. We're going to see the knock on of these decisions for a long time and we will see lower confidence and investment in the industry until we see greater stability return.
Do you think the pandemic has changed the way that we approach events in the short term only or do you think that we'll see the effects for years to come?
I think the full impact is still unknown. We can see the superficial scars of this pandemic, but there are deeper and longer lasting effects that are yet to show themselves. Few of these will be positive and there are many challenges facing us as we head into 2022.
There are many suppliers that have gone out of business, irreplaceable expertise has left the industry and staffing shortages that many will have tales to tell of all compounded by the price increases that are coming from materials in short supply and the lack of investment into new kit and infrastructure.
I think the Government needs to look at its role to kickstart the events industry again, supporting stability by, projecting its confidence for a fully reopened season next summer and then investing into the supply chain. This would assist in the introduction of important new technology such as greener temporary power, funding for training of staff to make it easier (particularly in the security sector) for people to get into our industry and then make it a career. Once we see confidence return to our industry, we will see that the UK still leads the world's event market.
What have you found most rewarding?
People - I still believe the people in our industry are some of the best in the world. When we (Mark Ward, Harry Ford, Mike Trasmundi, Tyler Col-Holmes, Chrissie Gilbert and myself) undertook the Survival Tour (I can't believe it's a year ago now) in support of We Make Events and the charity Backup, we heard so many passionate stories of people whose jobs and income had been decimated in an instant. We had technicians, crew, riggers, drivers, security, caterers, cleaners, venue management come in and join us at the venues we passed along the way to demonstrate their support.
We also saw this passion come through in their desire to support the COVID-19 response projects we worked on, some in extremely challenging circumstances, but as event professionals they rolled up their sleeves and said – 'how can we help?'
And then once we got back to events, it was about the people. The people we've missed, the festival families we all know getting back together, was for me, the most rewarding. It was extremely tough to get through the shows this summer, but everyone supported each other, watched out for each other, and were more patient with each other because we were all so grateful to be back doing what we love.....together.
What are you working on next?
Getting everyone a bit of holiday – I think we've earned it.