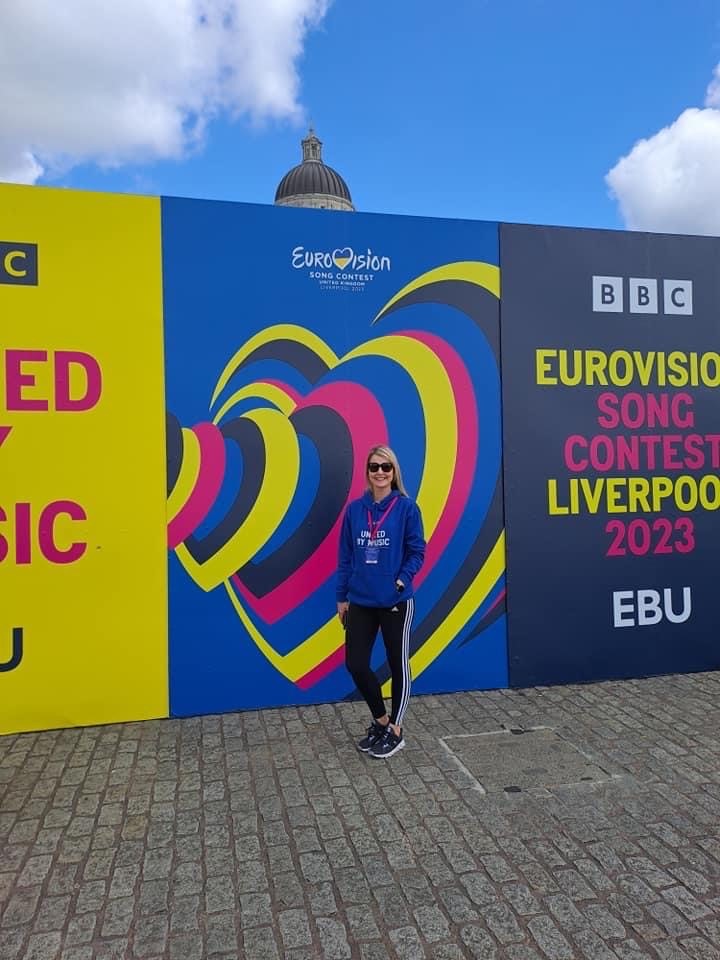 We chatted to Susan Gibson, head of city events for Culture Liverpool, about all things Eurovision; including the planning process, numerous stakeholders involved, operational challenges, its unbelievable success and her own personal highlights.
"It's probably a good idea to explain who was responsible for what from an organisational point of view. EBU is the rights holder, the BBC was the UK host broadcaster and Liverpool was the host city. LCC contracted the M & S Bank Arena for the Eurovision Song Contest itself and everything outside of the arena fell to Culture Liverpool, Liverpool City Council which was tasked with host city delivery.
Normally, planning a Eurovision takes place over a 12-month period, in Liverpool's case it was just seven months so it was a mammoth undertaking. If I'm honest I was surprised by just how big it was. Being Liverpool, we didn't just do what we were contracted to do, and mindful that we were delivering the event on behalf of Ukraine, we were inspired to be more ambitious than ever.
We set out to ensure that from the 1st – 14th May the city was literally a light with all things Eurovision. We couldn't have been more thrilled with the outcome, every Liverpudlian completely embraced it and from the minute you got off the train at Lime Street station you were fully immersed in all things Eurovision and receiving that warm, friendly scouse welcome that we're renowned for.
Team Liverpool, as it became known, included Culture Liverpool, Liverpool City Council, Merseyside Police, BBC, EBU and the M & S Bank Arena, we all came together and worked incredibly hard to pull off something very special. There was also a huge amount of involvement from DCMS, Liverpool City Region Combined Authority, Heritage Lottery Fund, Liverpool BID Company, Spirit of 2012, British Council, Arts Humanities Research Council and Arts Council England. We couldn't have achieved what we did without their support so thanks go to them all.
There were seven strands to our delivery: Eurovision, EuroClub, EuroVillage, EuroFestival, EuroStreets, EuroLearn and EuroCity.
The Camp and Furnace nightclub, located in the Baltic Triangle became EuroClub and was a late night venue playing back to back Eurovision hits; EuroFestival included 24 art commissions, 19 of which were jointly produced by UK and Ukrainian organisations; EurosStreet was an outreach programme to involve communities across the region and offered grants for those who wanted deliver events and celebrate Eurovision; EuroLearn took Eurovision to local classrooms and celebrate and learn about Ukrainian culture, whilst EuroCity saw local businesses encouraged to get onboard.
Our EuroVillage was located on Pier Head close to the M & S Bank Arena and delivered nine days of event activity featuring former Eurovision stars and a string of well-known artists. We talked to previous hosts including Turin and Tel Aviv to get a feel for what the space should feature. In the end it was a huge event in its own right. Other than the ticketed event on the night of the Grand Final, the Eurovision Village was completely free to attend and the party atmosphere was fantastic throughout.
Opening on 5th May with a 'Welcome to Eurotopia' party with a performance from the Kalush Orchestra, last year's winning act from Ukraine. Throughout the week there were performances from this year's entrants along with The Lightning Seeds and Fleur East taking to the stage. The Grand Final Party was hosted by Motsi Mabuse with Claire Richards (Steps), Katrina and the Waves, Jedward and the Vengaboys all taking to the stage.
In addition to the seven strands, we worked with TBI, Camelot and the National Lottery to deliver the National Lottery's Big Eurovision Welcome. The concert, held at St George's Hall Plateau on 7th May was attended by 25,000 people and broadcast live on the BBC.
Operationally the timeframe and sheer scale of the task were certainly a challenge, with a huge amount of work being delivered by a small amount of people. My core team includes six full time event managers and a couple of producers so we did rely on the help of some talented freelancers to pull it all together. The support we received from our procurement team was invaluable and they definitely need a shout out as they were brilliant, putting out tenders and reviewing bids in a short period so that we could get the suppliers that we needed onboard.
Security was obviously a huge project in itself, we were hosting people from 37 countries and doing so on behalf of Ukraine. Merseyside Police were fantastic in the way that they engaged with all the stakeholders. The city was the busiest it's ever been so transport was also a huge consideration and time was spent ensuring that the network could cope. In the end both areas were a great success which was certainly down to the planning.
The joy and hope that Eurovision brings is the biggest thing that I will take away from the experience. The EuroVillage on Grand Final night had the most incredible atmosphere and whilst I was in Silver Control for most of the evening, my team tell me that they felt that it was nicest crowd of people that have ever attended a major event that they had worked on. It's had an impact on me personally – to see that level of change and cultural influence is phenomenal.
What we achieved with Eurovision will be the footprint for every event we deliver from now on."
Suppliers included:
Safety- Event Design
Staging- ESG
Site & Production- Event design
Security FGH
Sound- Ablib
Traffic manager- Traffic Direct
Traffic stewards- Paramount
Barriers- Arena
Noise management- Marshall Grey
Power- Pyramid
Medical- Mersey Medical
Cabins- Search
Toilets- GAP
Marquees- Field & Lawn
Comms- NRB
Wifi- I Spider