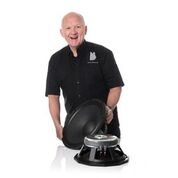 Making its debut at this year's Showman's Show is Yorkshire's BishopSound, one of the fastest growing companies in British sound. Its products combine advanced design, top-quality engineering, amazingly competitive prices and, above all, the famed British Sound, which has become so hard to find in recent years.
On show will be a wide range of its products including the hugely successful Orion 15" active speaker with Bluetooth and the best-selling Orion 12" - also active and also with Bluetooth. If bass is what you need (and who doesn't these days?) check out its BishopSound active 18" bass bins or, alternatively, the mighty twin 18" which delivers earth-shattering levels of bass at a very affordable price.
For full range sound reproduction, it will have our active and passive speakers on demo, including twin 15" speakers, and both active and passive versions of its unique BD312. But whatever you do don't miss this chance to listen to its newly launched BishopSound Line Array, which made its international debut just a couple of weeks ago at the professional audio BPM show where it caused a sensation on account of its superb sound, affordability and easy portability.
Come and meet Andrew Bishop and the team and prepare to be impressed by the British Sound!