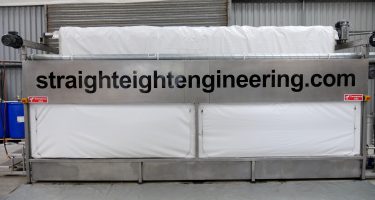 Clean My Marquee & Straight Eight Engineering with be showcasing a professional and efficient cleaning service for all marquee PVC and linings at The Showman's Show.
Using the latest in industrial washing machine technology, Clean My Marquee is able to provide an advanced cleaning service for all your marquee washing and drying requirements. We pride ourselves in offering a cost and time-effective cleaning solution for marquee companies, venues and corporate clients who are in need of professional marquee PVC cleaning and lining washing services. Our service includes mould and stain removal and minor repairs.
The Straight Eight machine, with in-built drying technology, offers not only a more-cost effective solution to traditional hand-washing methods, it's also better for your PVC and gives a far superior, streak proof finish. It is able to clean PVC marquee sides, roofs and gables, washing sections of up to 6.5m wide and 30m length in a single pass.
In addition to marquee cleaning, the company offers an installation service for venues and corporate clients who would like assistance with setting-up and dismantling linings or marquees.
The Straight Eight Engineering team is forward to seeing you at The Showman's Show where you will be able to chat to us about our Clean My Marquee services and see a washing machine in action.