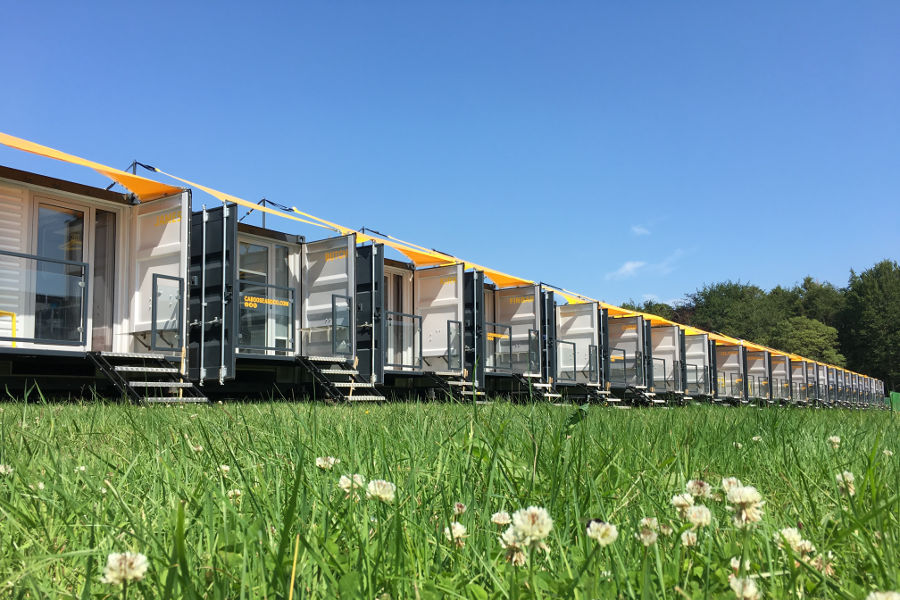 Cube Modular Ltd will be showcasing more innovative portable buildings than ever before at this year's Showman's Show, including its newly acquired exclusive Caboose & Co event accommodation. The stunning Caboose container conversions provide ensuite double and twin bedrooms with toilets, showers and individual sun terraces for the ultimate experience in luxury accommodation at events and festivals. Cube's Caboose Village solution allows landowners and rights holders to realise new profit streams with a complete VIP package, ensuring guests get the best possible night's sleep alongside access to exclusive social and catering facilities.
To complement the Caboose sleeping accommodation, Cube will also be demonstrating its Snoozy foldable glamping pods. These environmentally low-impact, visually stunning pop-up units provide lockable, secure accommodation with lighting and USB power. Up to 40 Snoozy pods can be transported flat-packed on a single truck, dramatically reducing the carbon emissions and costs associated with logistics.
Last but not least, Cube will be presenting two brand new models in its award-winning range of foldable Continest modular buildings. The latest Continest Point of Sale unit features a fully integrated lift up hatch, providing shelter over the serving counter and enabling up to 10 retail units to be transported on a single truck. In addition, the brand new fully perspex-fronted Continest model will be on display, ideal for brand activation and for use as a marketing suite.
Visit Cube Modular on Avenue B, stand 138