Regarded as an important part of the summer festivals calendar, attracting around 30,000 visitors each year, and taking place at its stunning venue in Broad Chalke near Salisbury in Wiltshire, the Daily Mail Chalke Valley History Festival is set to return from 20-26th June. With a couple of months to go before the start of the festival, we spoke to Head of PR Alex Hippisley-Cox about what the organisers have got in store for 2022.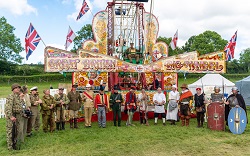 "After a slightly shortened version in 2021, we are delighted that this year the History Festival will be back to seven days. Packed full of historical entertainment, inspiring discussions featuring the very best historians in the land, plus interactive activities such as the Trench and Sword School, it is fun for all the family and a unique and fascinating mix for a summer festival.
Last year because of Covid restrictions we had two new outdoor stages. These were very popular so we're bringing these back again. Here visitors are able to listen to world-class speakers, see demonstrations given by living historians, whilst sitting on the surrounding hills savouring delicious historic fast food. Household names like Ian Hislop and acclaimed travel writer Colin Thubron will take to the stage in one of the big speaker tents, whilst children experience the thrill of driving the 1930s dodgems or riding on the big wheel at the vintage fairground. There will be so much on offer for children and families, and for those wishing to sleep under the stars, there will be camping and glamping facilities available, with a stunning view to wake up to over the festival site.
Our talks and discussions have traditionally been the backbone of the festival and, once again, we have a brilliant line up coming to speak. Festival favourite David Owen will return to give a topical talk about two hundred years of British-Russian relations, whilst bestselling historian Andrew Roberts will be presenting his most recent book about George III. And Sarah Churchwell will be talking about the history and legacy of the epic novel Gone with the Wind.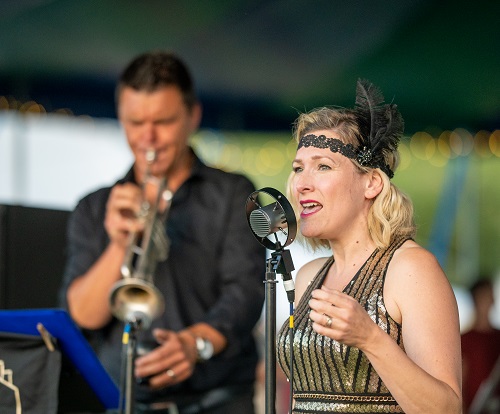 But more than ever we are offering a much wider programme that includes live music every day, a reconstructed Iron Age round-house, and some truly stunning and original living history displays, from Restoration-era horse racing to Alex Compiniani serving up some delicious and authentic Pompei street food.
We have a small core team who work from September to July and, as the Festival gets closer, the team begins to build. Once tickets are on sale the office is extremely busy. There's a large back-office group too working behind the scenes, managing our site team, working with the landowners and briefing the huge number of volunteers. Our volunteers are both local and nationwide. We're enormously grateful to them - without them the Festival couldn't happen. Terry Barratt, Director of Red Kite Management Services, is absolutely central to the festival taking shape and running smoothly, and he's also importantly in charge of health and safety. Our site team is managed by Andy, who comes from Sussex. He's been involved right from the beginning. The site team consist mainly of local students who are keen to be involved in something of this scale. It's hard work but they clearly enjoy it because they all sign up every year. In the 12 years of the Festival lots of friendships have been made and the odd romantic liaison!
As much as possible we try to use local suppliers. All our local pubs, hotels and B&Bs are swamped with visitors during the Festival week. Many are returning guests and re-book their accommodation immediately after the Festival for the following year. Alix Fauvel, from Cranborne runs our tea tent, and her cakes and savouries are delicious. Gardner & Beedle from Tisbury run our big top bar with a huge range of wines and spirits, generously supported by Butcombe Brewery. We have a fine dining tent for those who wish to pre-order lunch or supper and entertain guests. There is also the food court with vendors coming from Wiltshire, Hampshire and Dorset. We've got Big Bang pizza, street food from Flaming Peaches in Wimborne, curry from The Curry Man, Purbeck ice cream, Dorset lamb, and Grounded Coffee, to give you an idea of the range on offer.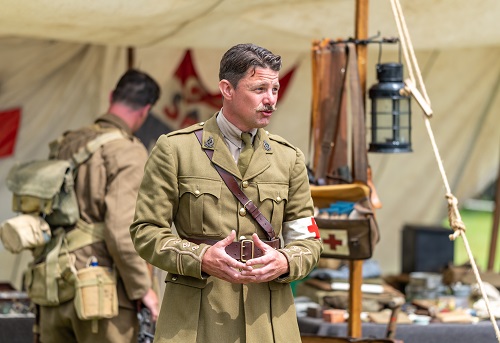 Every year the list of both local and national media who support, and report on, the history festival grows. Our social media presence also grows exponentially, and we find that this is now a really important way to spread the word about what we're up to and what visitors have to look forward to. Plus, we use our large database of dedicated and loyal followers to communicate all the news and updates, via our regular newsletters and announcements. During the festival week, I run the press tent on site, and there's a constant hum with speakers giving interviews and journalists filing stories. Sometimes making all the technology work (from Wifi to phone lines to ensuring the fridges are operating) can be a challenge, but that's to be expected when your festival site is in the middle of a field!
We are really excited to have the Chalke Valley History Festival for Schools back for 2022, which will run for two days on the Monday and Tuesday. It offers a curriculum-based programme of events designed to encourage pupils to learn about history through a series of immersive activities and engaging talks. Schools from all over the UK attend every year, with nearly 13,000 pupils from both state and independent schools having attended over the past decade. It really is a major contribution to UK history education and brings the past alive in new and exciting ways."
Our tickets go on sale to the public on 3rd May and all the information you need can be found on www.cvhf.org.uk"