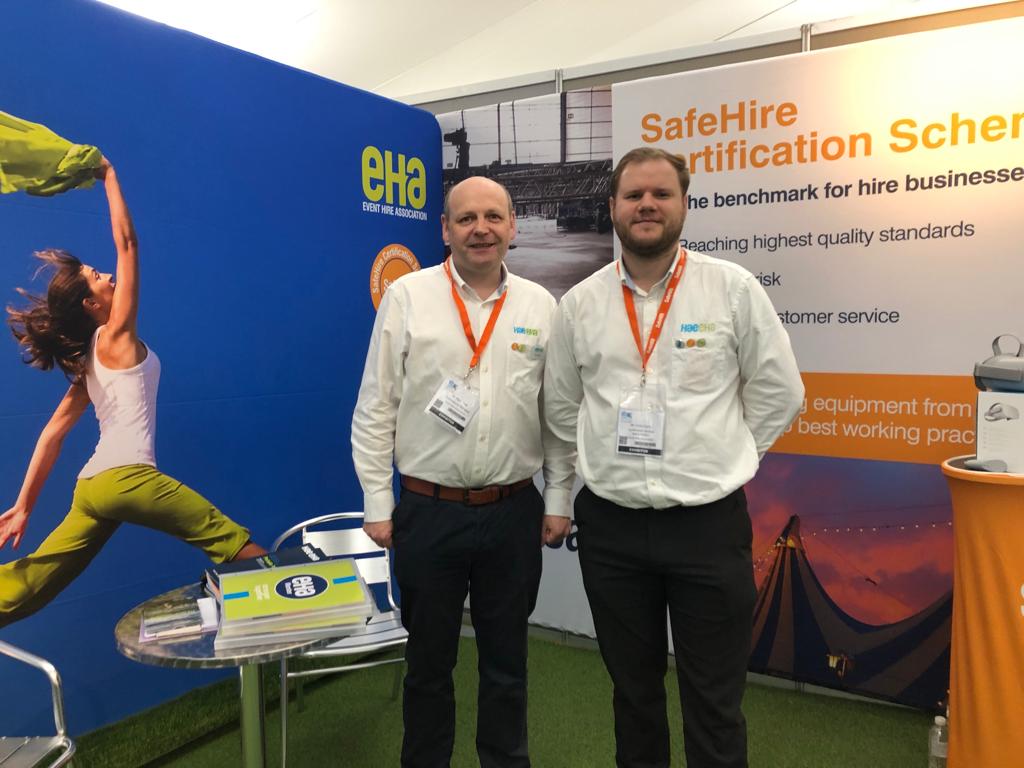 With an enforced break for The Showman's Show in 2020 due to the global pandemic, the leading exhibition for outdoor events returns to Newbury Showground this Wednesday and Thursday (20th – 21st October) with a bang. The Event Hire Association (EHA) is exhibiting and will be showcasing a range of products that have been designed to support, protect and rebuild the UK events industry with the standout element of its member services being the recently launched HireSecure.
HireSecure is a new and improved short-term hired insurance product which is available to all EHA members to cover accidental loss or damage, fraudulent hire, theft, vandalism and malicious damage on owned or cross-hired event equipment. Members with the cover will no longer need to worry about claiming against the hirers' policies and will be in control of their claims, reducing the administration and uncertainty usually involved.
Paul Gaze, EHA's CEO said: "It is vital that as an association that we continue to support event hire companies as they recover from the pandemic and look to rebuild their businesses. 2022 is looking like an incredibly busy year for events which is obviously fantastic but the challenges facing the supply chain are well documented. Having the security of a short-term insurance product will allow companies to fulfil contracts with minimised risks. We believe that the additional level of protection will play an important role in the recovery process."
Anders Mclocklan, development director for Towergate Insurance Brokers adds: "We are delighted to be working with EHA and its members, what is certainly an exciting but still a challenging time for the industry. We can offer a tailor-made insurance offering, which is built for the event industry. Our exclusive membership product HireSecure can provide protection to all levels of equipment when hired out and is a low-cost solution to the rising problem of theft as well as damage. We are looking forward to adding benefit to EHA and the members."
Additional services delivered by Towergate Insurance Brokers to EHA members encompass commercial insurance, trade credit, health and employee benefits, cybercrime protection, management liability insurance, risk management services, professional fee protection and building valuation services.
Working together with its membership and the wider industry, EHA has a plethora of services, many of which are free to access, to assist event hirers in rebuilding their businesses. These include careers advice and support with recruitment; management and leadership programmes; assistance with employee benefits; Health & Safety, including its certification services SafeHire, SSIP and HITS; access to professional HR resources and training courses, along with risk management and Towergate Insurance Brokers' comprehensive insurance schemes.
EHA's group marketing manager, Ann Harrison comments: "The Showman's Show is always a highlight for the EHA team. It's a fantastic opportunity to meet with both our membership and the wider outdoor event community. Having missed a year due to the pandemic, we can't wait to return to Newbury Showground and reconnect with our industry friends. This year, more than ever, we know that members need our support and we'll be available throughout the show to discuss any concerns and offer practical advice and support."
Visit the EHA team on stand 69 in the Exhibition Hall.