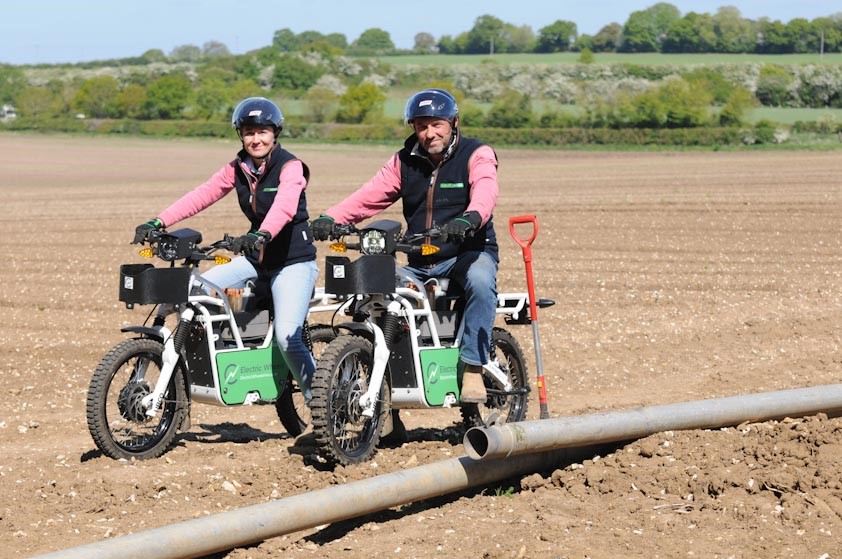 A Norfolk company which pioneered electric utility vehicles in the event management sector has begun to build a national reputation for providing the vehicles to the agricultural industry.
Electric Wheels, based in Little Cressingham was the first company in the UK to offer all-terrain electric utility motorbikes and utility buggies for long and short-term hire to the event management, estate management and recreation sectors.
With the Covid-19 crisis wiping out the events market for the foreseeable future, the company is now finding new markets in farming – supplying vehicles as far afield as Cornwall and Barrow-in-Furness.
The company was launched early last year by Chris Hurdle, who runs a successful event management business. He started the business with a hire fleet of 25 electric 2x2 work bikes and has since expanded the offering to include zero-emission buggies and a 14-seater E-Bus.
Although the initial focus was on the events management sector, the vehicles are enjoying a growing reputation in the agricultural industry, with farmers, agronomists and even agricultural drone-surveyors taking advantage of their robust functionality and their zero-emissions environmental credentials.
Commenting on the changes it has made to its business, Chris Hurdle, Electric Wheel's director, said: "Up until now, the options for low and zero emissions utility vehicles in the agricultural sector have been very limited. As the events sector has taken a big hit as a result of the coronavirus crisis, we started to seek out new markets – and have found we are knocking at an open door in the farming industry.
"It is clear that farmers and those supporting agriculture are ready to take a more environmentally-friendly approach to utility vehicles, as traditional diesel-powered work vehicles start to fall out of favour. Electric vehicles are practically silent, have zero emissions, and are more versatile than their diesel-powered counterparts."
The electric work bikes and buggies are available for long and short-term hire, as well as for purchase. Full details on the whole range of electric utility vehicles available from Electric Wheels can be found at www.electricwheelshire.co.uk.