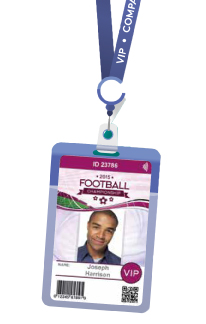 Essentra Security will exhibit its event accreditation and ID pass solutions for outdoor events at the 2019 Showman's Show, the UK's only exhibition dedicated to the outdoor and special events industry.
As a leading European supplier of identity solutions, Security Officers trust Essentra Security's event pass technology to deliver on their safety and event management objectives. The company's ID solutions are relied on by security officers at many major sporting and outdoor events.
Essenta Security's event solutions primarily allow organisers to manage and know who is on their site through clear visual identification. Maintaining control over private access areas for staff and VIPs, capacity control, bag checking, and visual differentiation between staff, attendees and VIPs are some of the applications that are met.
Outdoor events often require more advanced security as they tend to cover larger areas and facilitate a higher number of visitors. Unauthorised entry is more common as it is easier to gain access to the site. Attendees, staff and contractors also need to see clear indications of safety measures to feel secure and comfortable in such large crowds.
Concert organisers, professional sports leagues and anyone in the event management industry can rely on trusted solutions such as: RFID contactless chip encoding for access control on cards and wristbands; anti-tamper luggage tags for bag checks; forgery-proof UV printing to ensure ID cards and accreditation passes cannot be replicated, double clipped lanyards to ensure event passes always display the correct side; bespoke lanyards and accessories for colour coding of staff, contractors and VIP's; and printing software to create professional ID cards featuring personal information, company branding and relevant event details.
In addition, Essentra Security continually invests in facilities to ensure they remain at the forefront of technology and quality whilst maintaining a focus to reduce their carbon footprint. Working with UK manufacturers and supporting products created with eco-friendly and sustainable materials through more efficient processes has allowed the company to offer some great eco-alternatives.
Watch the short video for insight into the company's event security solutions and how they can secure your event.