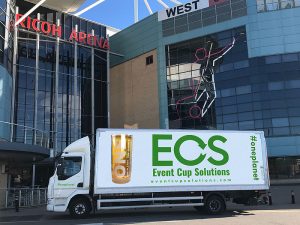 Event Cup Solutions is a British company and currently the UK's only provider of a complete replacement for single use plastics for hot and cold cups, along with food-to-go containers for festivals, concerts, stadiums and other large scale events.
Offering a complete service that encompasses delivery, collection, wash and storage of the best range of unbreakable, safe-for-use reusable plastic cups. As the sister company of Event Hire UK, it has a wealth of experience in the hospitality sector with vast experience in festivals and events.
With the infrastructure of four regional distribution and wash facilities, it claims that it is in a unique position to guarantee its reusable plastic cups travel a shorter distance from venues to be washed and sanitised. This helps to minimise carbon footprint.
The powerful 'One Planet One Chance' brand from Event Cup Solutions provides a powerful, sustainable message to visitors, encouraging positive environmental behaviour at your event.
Extensive research has driven a growing call for festivals and events to move away from single use disposable plastic. Event Cup Solutions can provide event organisers with a commercial breakdown outlining how to turn an initial cost negative into a profit generating solution, providing a win-win scenario for everyone. Let's move towards a greener, more sustainable future together!