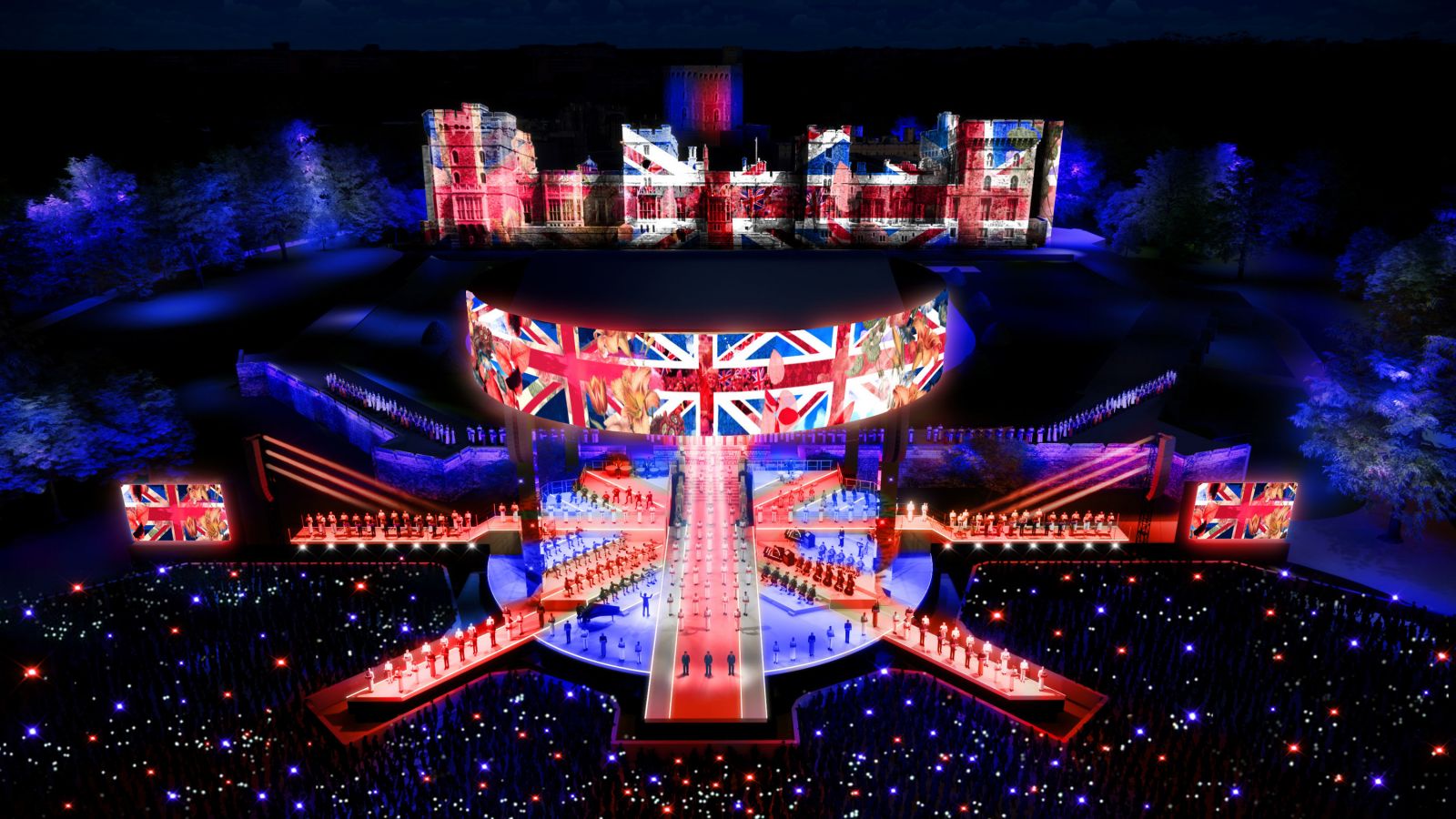 Windsor Castle proved to be a stunning backdrop for the Coronation Concert, organised and broadcast by the BBC. Featuring performances from Nicole Scherzinger, Take That, Lionel Richie and Katy Perry, more than 10 million viewers tuned in on Sunday 7th May.
With top draw production values, the UK's event industry demonstrated its ability to deliver truly world class events. The stage was designed by Stufish who set out to embrace the historic location and frame the castle. It included multiple levels to allow for a 70-piece orchestra and band in the form of an abstract Union Jack. Four additional catwalks branched out of the flag geometry from the stage into the audience to create more areas for performers and choreography. Above that an LED enveloped the roof.
The stage itself was built by Star Live utilising its Titan stage system, supporting trusses and rigging for a 180° video drum weighing approximately 15,000kg that became the header and creative keystone of the production. In addition to the stage Star Live also supplied two grandstands, the Royal Box, a Royal Retiring Room, assisted viewing platform, front of house control units, structures for BBC camera positions, Imag screen supports and cable bridges.
Star Live also provided eight weatherproof projector platforms on the East Terrace that were used to hide Creative Technology's projectors. The company delivered a 300sqm curved video screen and technical delivery of the mesmerising projection mapping, which was created by NorthHouse Creative, covering 4,000sqm of Windsor Castle in total. The team at NorthHouse wanted to ensure they struck the right balance between fun and elegance for various moments throughout the show to suit the stature of the occasion whilst celebrating the architecture of Windsor Castle.
Also, involved in the production were Zen Broadcast and Terry Tew Sound & Light who supplied the audio and RF for the entire site, the concert, BBC 1''s studio and BBC Radio 2. And MOJO Rental UK delivered flooring and stage barrier.
With a full line-up of high-profile acts, crewing specialist Showforce supplied stage management crew for show calls during the live broadcast. They also supplied crew for build and de-rig, plant operators, a production runner for Katy Perry's entourage and a team that worked alongside SKYMAGIC who delivered the spectacular drone light show. Reportedly rehearsing off site, to ensure it was a total surprise for everyone, the sky was lit up by 1000 drones.
Show, site and broadcast power was provided by Power Logistics with a sustainable solution at the forefront of its delivery. Alongside the generators for the stage, front of house, grandstands and concessions all run on Green D+ HVO, the project management also deployed 160kWH batteries to minimise fuel usage. 45Kwh batteries were also utilised at the accreditation gates. In excess of 13km of cable, 150 distribution units, 400m of DDA compliant cable ramp and 2.3km of festoon lighting was also supplied.
Behind the scenes Qdos Event Hire provided production cabins, offices, accreditation cabins, guest toilets, storage containers and accessible toilets. They also supplied artist dressing rooms & toilets to the Artist Village that was created backstage. Overall, 135 units were deployed.
Sustainable styling company Dazzle & Fizz dressing the Artist Village and in keeping with the King's passion for the natural world, it installed living planters, finished with wild-flower seeds, vegetable seeds and bird feeders to take home. The dressing rooms featured fresh succulents, wooden plaques from charger plates and coasters from offcuts of wood. Whilst furniture for the artists' dressing rooms and backstage facilities, along with furniture for the BBC's compound was supplied by Event Hire UK.