With the Cheltenham Festival firmly back on the events calendar for 2022, organiser The Jockey Club met the pent-up demand from race goers by expanding its capacity. More temporary structures were added to allow up to 92,000 people a day the opportunity to attend last week (Tuesday 15th – Friday 18th March).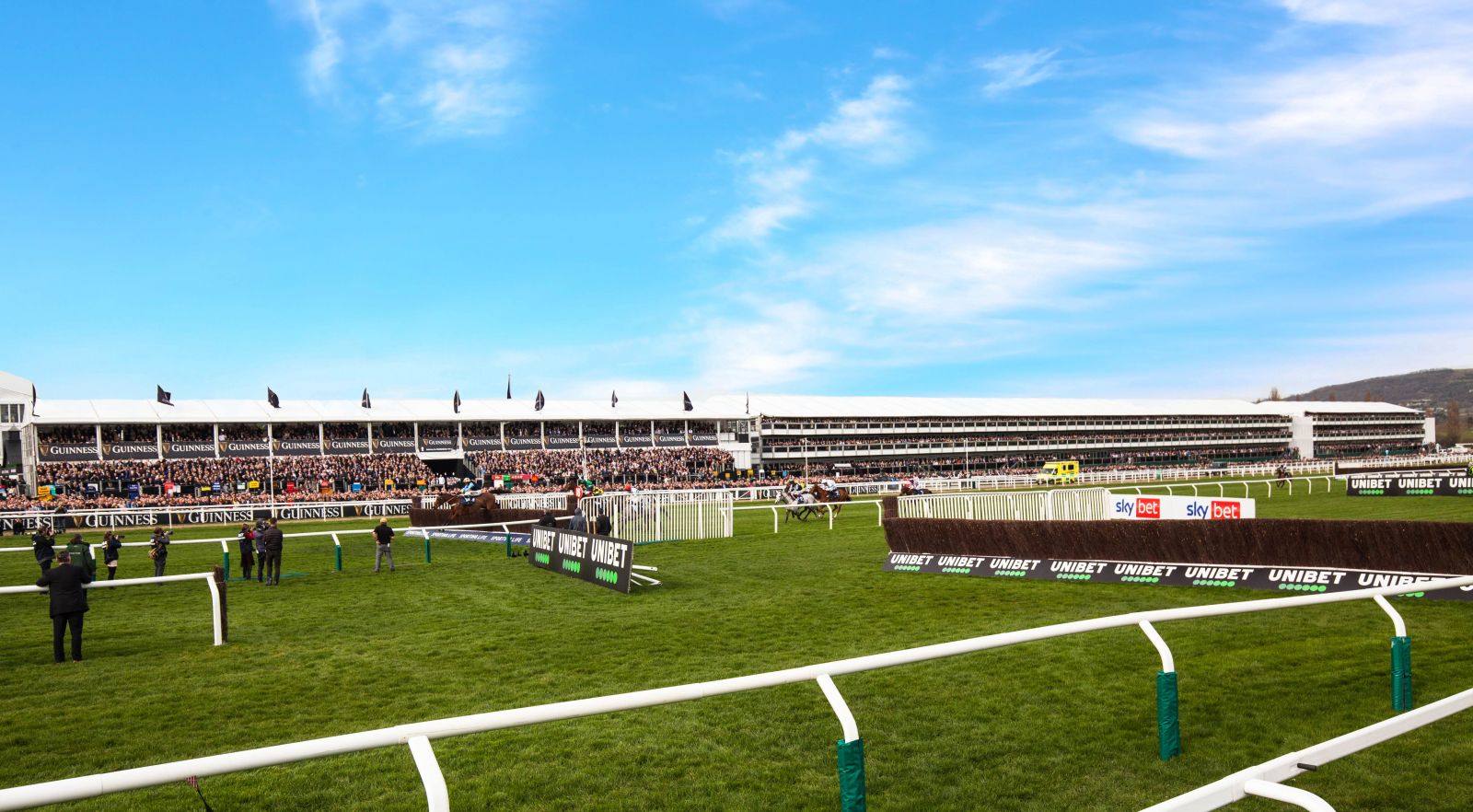 Amongst the event suppliers for the festival was Arena Group UK EMEA, the seating, structures, scaffolding, interiors and furniture specialists worked together to supply bespoke temporary venues and grandstand seating, flanking the course's impressive permanent facilities and delivering exceptional views over the home straight. With a design-led approach, the result was a stunning range of dining and viewing experiences for racegoers, which are a vital part of the event's economy.
Working with the Jockey Club's Festival Director David McKinnon, preparations began well in advance to design the venues to meet the client's aspirations. This was followed by structural engineering and logistical planning, preceding the three-month build, which this year included weathering three severe storms. Interior fit-out completed the process, with creative finishes giving a range of contemporary environments, which hosted the range of VIP packages and general admission experiences offered by the Jockey Club.
Arena Group's structures UK team, project managed by Ben Sly, installed 17,400 sqm of bespoke venues across the site. The record-breaking 185m long triple-decker accommodated 5,000 VIP guests per day, in a range of individually designed suites and restaurants. For 2022, Arena designed and fitted out new looks for the Theatre @The Festival, 480 Restaurant and Final Fence VIP hospitality, also creating contemporary luxurious environments in the Club Room, Chez Roux and multiple Cleeve View and Long Run boxes.
Tom Evans, Arena Group UK EMEA CEO said: "Cheltenham Festival is a jewel in the crown of jump racing and we brought an experienced, talented team, who have done incredibly well to support the Jockey Club to bring the event back from lockdown, looking even more impressive.
"Having been on course for 35 years of the Festival, Arena's bespoke temporary infrastructure is central to Cheltenham Festival being able to expand its capacity to host up to 92,000 on site. Creating this range of venues requires close liaison between our designers and project directors with the client to install pristine demountable structures that feel like permanent venues."
Arena seating division's project manager Simon Chun delivered the Best Mate and Head On covered grandstands, media platforms and camera towers, along with the upholstered seating within impressive double decker Guinness Pavilion built by the structures team. This innovative venue was configured to host a 60m public Guinness bar at the rear, with staircases leading into the Guinness Village on the ground level, with a standing terrace at the front giving great views of the final fence. The upper floor Princess Royal Stand featured covered tiered seating and Guinness hospitality bars.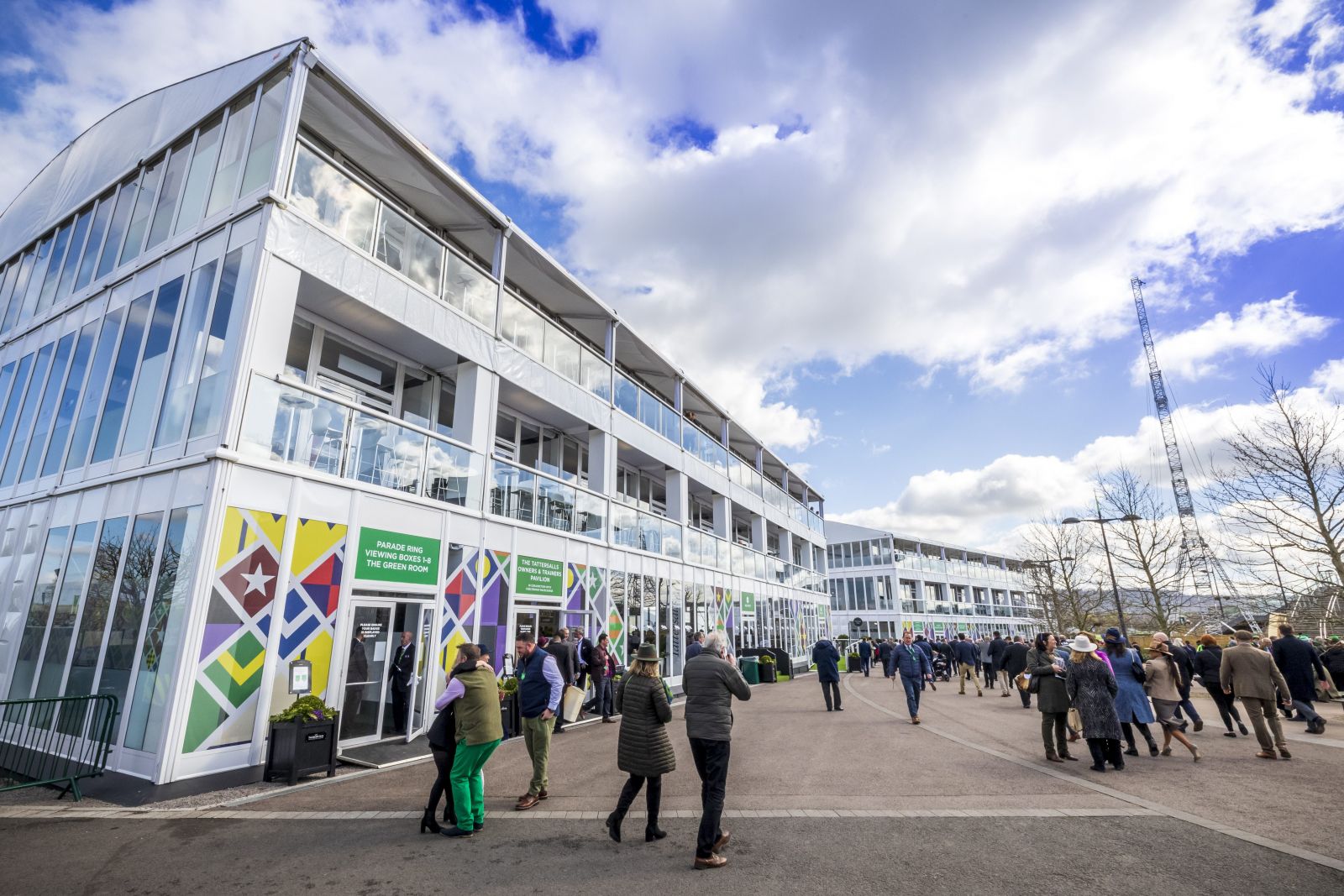 Also, racing back to supply temporary structures to one of the world's most famous hunt races was GL events UK with the company continuing to provide innovative event infrastructure to Cheltenham Festival on its return. They included an iconic triple deck, with parade viewing boxes designed for the perfect spectator experience along with hospitality zones, The Orchard and The Courtyard, which boasted exclusive hospitality pods with private balconies. Racegoers experienced the festival from additional structures that housed bars, restaurants and luxurious shops, from Bentleys to Boodles.
Large structures accommodated the shopping village and members area, while smaller event structures were ideal for cashpoints and betting stations. All structures had an enhanced internal fitout, and GL events UK supplied furniture, carpets, and power outlets. With the delivery of event infrastructure, GL events UK provided a prestigious spectator experience for all visitors, allowing them to soak up the atmosphere from a range of the finest facilities.
Group managing director of GL events UK, Scott Jameson said: "After missing out on last year's festival, the team was thrilled to be back, supplying event infrastructure, as Cheltenham is one of the biggest occasions for GL events UK. We delivered creative, innovative structures to ensure the festival was a seamless, outstanding experience for all visitors."
Power Logistics has supplied temporary power, cabling and distribution to the event since 2014. Its experienced team was onsite for over a month in the lead up to the event installing more than 30 generators, 3,600 metres of 3 phase cable and 17,500 metres of single phase cable, along with 120 distribution boards to power LED screens, hospitality areas, kitchens, lighting, the paddock, concessions and many of the marquees.
Other respected suppliers from the event industry were also on-hand to ensure that the Festival went smoothly. These included Qdos Event Hire who provided cabins and offices direct to the Jockey Club and its suppliers for this year's event; Freemans Event Partners who operated cashless bars and concessions and some stunning display from Natural Green Creative Spaces.
The week culminated in a historic win for Rachael Blackmore in the Gold Cup, as the first female jockey to win the prestigious race on A Plus Tard.