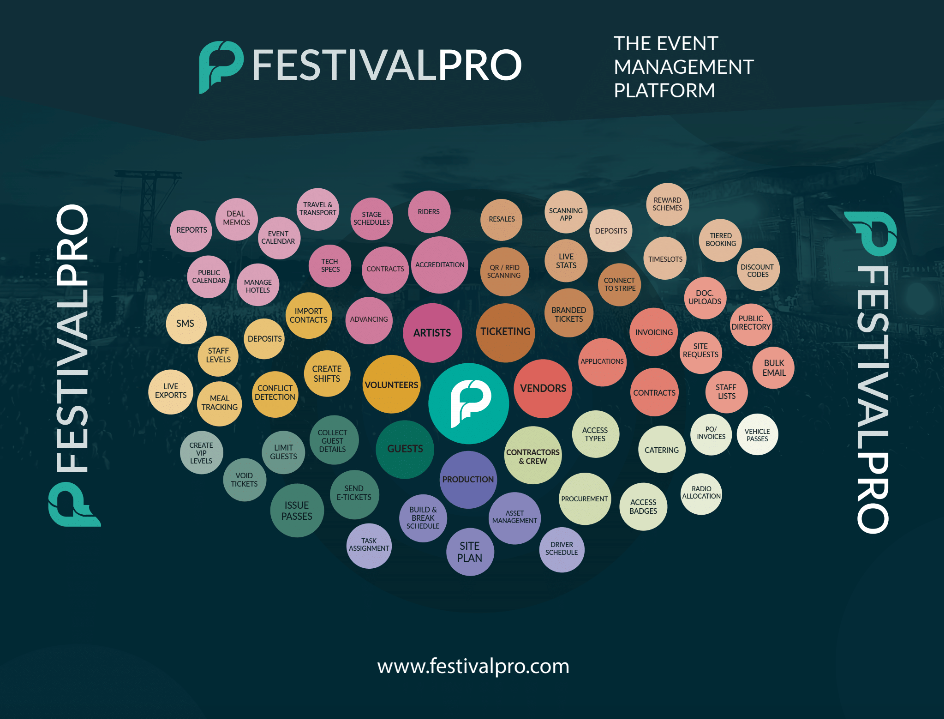 Festival Pro has quickly become the market leader in event management and ticketing software and is now the essential digital toolbox for event organisers around the world.
The software was created by a team of musicians, event organisers and industry professionals to simplify the complex process involved with running events and festivals. Since then, the software has expanded into other events such as food and beverage, comedy, film, gaming, and now reaching into other markets such as expos and conferences.
You can manage your artists, contractors, vendors, volunteers, sponsors, customers and internal staff from one source; without the need for other 3rd party platforms.

Our Ticketing system is incredibly powerful and customisable and we have some of the lowest fees on the market at just 2%. Using Festival Pro's ticketing will give your customers the opportunity to buy tickets for your events, track sales and stats in real time and scan the customer's tickets using the free Festival Pro Scanner App on the day of the event.
We have a huge amount of other useful ticketing features such as; custom ticket branding, tiered ticketing, deposit payments, resell tickets and ambassador schemes.

We have developed a huge amount of other useful features that were dreamt up by event organisers currently using the platform. You can find out more about our software by signing up for a free demo.
Using our event management software along side our ticketing module is the most effective and efficient way to keep all of your data in one place.
Save time, effort and money by joining the hundreds of festivals and events around the world using Festival Pro.