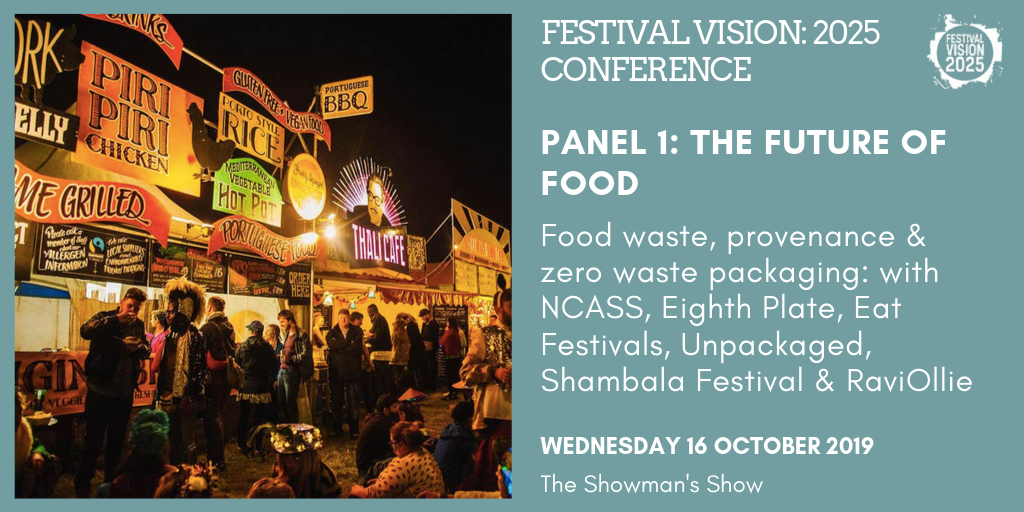 Forming part of The Festival Vision:2025 conference programme, the panel discussion 'The Future of Food' will include Mark Laurie, Director of NCASS and co-founder of pioneering festival food waste salvage project Eighth Plate. The session will cover food provenance, zero waste packaging and examples of best practice at events over the past season.
With guests: Bev & Sarah Milner-Simonds sharing their experience of implementing sustainability initiatives at eat:Festivals, their portfolio of multi-award winning food events across the south west. Catherine Conway, Founder and Director of Unpackaged, who launched the UK's first festival reusable plate deposit return scheme in 2018 with the long-term vision of making "Reusables" the new normal at events. Chris Johnson talking about Shambala Festival's award-winning food provenance policy and their decision to go meat and fish free; and Ollie Greenhalgh, founder of RaviOllie, giving a food trader's perspective on overcoming the challenges of implementing sustainable practices. Mary Shelley-Smith, Eat to the Beat's global operations director will shine a light on how the crew and artist caterer is approaching sustainability.
The Festival Vision: 2025 Conference will be held at The Showman's Show on Wednesday 16th October and The Future of Food session is at 1:50pm-2:30pm.
You can find full details of The Festival Vision:2025 conference programme here.