Marquees are a familiar sight at any event. As we look ahead to a busy summer, we hear from global manufacturers and suppliers about the new products hitting the market and partnerships being forged.
PERFECT FOR ANY EVENT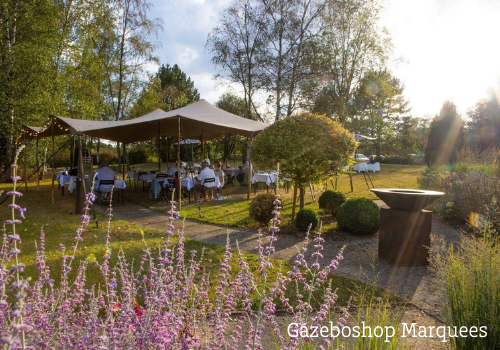 As we head into a busy 2022, Gazeboshop has confirmed that it is now a UK distributor for Belgium-based, Bonga Stretch tents. The new and versatile product is the latest addition to join the company's product range. "With a stretch tent, you really can do anything! Thanks to the stretch fabric and the movable clamps and tensioning points, these stylish structures can be configured in countless ways - making them perfect for any event, including corporate gatherings, weddings, festivals, private parties and food fairs.
"You can play around with the set-up, so whether you're after a sun canopy or giant awning, a rain screen or lounge area, the creative control of these tents make them flexible enough to fit any area, of any size. When the weather is nice, you set it up with four open sides, when it's windy with one or more closed sides and in case of rainfall you can set up the tent almost completely closed. You can always make small changes to the setup while the tent is up. With various sizes available, the bigger your tent, the more possibilities you have!"
The Bonga Stretch tent canopy is made from fire retardant material that is specifically developed for a commercial market and is 100% waterproof. Not only this, the tents can be constructed on uneven grounds and can also be attached seamlessly to buildings (with keder) in a similar way to how an awning works, making them a great choice for all types of events in all types of terrain. The 560 g/m² cloth consists of three layers and is treated on the outside with a protective waterproof PVC coating. Moreover, it is fire retardant in accordance with class M2, UV resistant and wind resistant up to 8 Beaufort (85 km/h). It can withstand pulling forces up to 1000 N / 5 cm.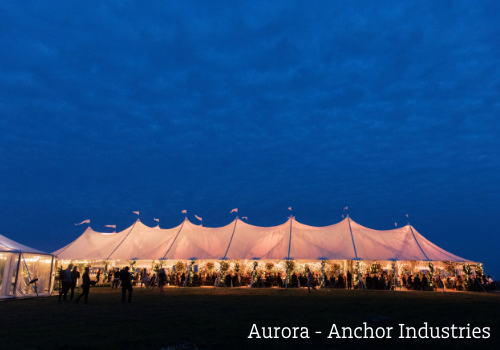 MORE THAN A FAIR WEATHER MARQUEE
As America's largest marquee manufacturer for frame and fabric products, Anchor Industries carries a wide selection of event and commercial marquees for weddings, picnics, street fairs, festivals, and more. It's show stopping Aurora®, takes the essence of the sailcloth marquee's appeal and its quality and engineering expertise, to create a marquee that has really raised the bar and elevated the look of tension marquee.
Nautical touches and a characteristic shape are often cited as key elements of the appeal, but the true essence of the allure is the luminous beauty it suffuses into an event by day and radiates to the surroundings by night. Anchor's sailcloth marquee is made of proprietary laminated vinyl that stays true to form.
Aurora® is more than a fair-weather marquee thanks to the ability to seal side walls to the marquee top. Its revolutionary, patent-pending WeatherShield™ wall to eave sealing technology, named a 2015 IFAI Innovation Award winner, eliminates the gaps that let in wind and rain.
COLLABORATION AND BRAND RECOGNITION
Also new for 2022 is a collaboration between E-Z UP and Sea Otter Europe Costa Brava-Girona gets underway for a period of four years, as the company is confirmed as the official shelter sponsor of Sea Otter Europe.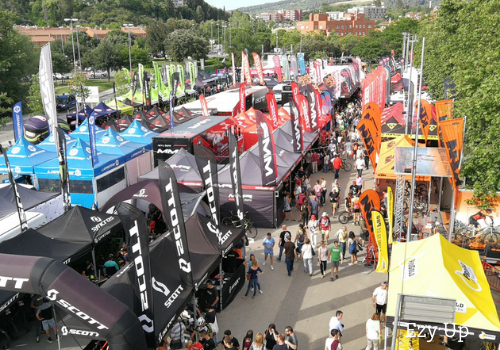 The American brand wants to increase its brand recognition in the European cycling market by supporting Europe's leading bike event. Michel van Oudheusden, sales manager E-Z UP Europe confirms that: "Our goal is to grow our brand awareness among the cycling brands. Being the global #1 supplier of easy up tent systems, we simply need to be present at an event with so many of our type of products on scene. We can use the event to talk in person to many of our long-term customers in the cycling industry like Cannondale, Look and others.
"As Sea Otter's instant shelter partner, we also want to start connections with other brands in the industry, having visited the event during the past editions I don't see any better event for this than SeaOtter in Girona. Also, being well developed in countries/regions like Germany, Benelux, France and the UK, we'd love to strengthen our brand and presence in the Southern European countries."
Continuous improvement is an essential aspect of the brand – something that is also close to Sea Otter Europe's heart. This is a partnership that we are sure will be strengthened in the coming years.
A ROOFTOP FOR ALL CIRCUMSTANCES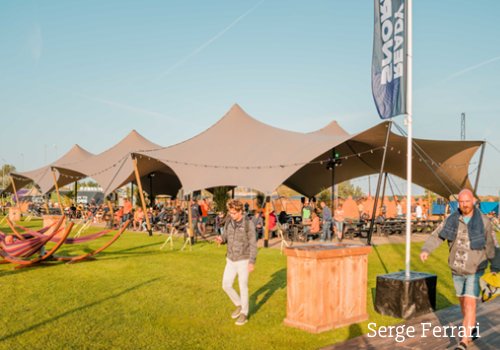 Last September, Serge Ferrari's customer Epic Shelters created its newest stage roof, the 'Es Vedra', utilising its Flexlight Lodge 6002, at Grand Prix Zandvoort. The organisers of the Dutch Grand Prix 2021 required a large shelter for their campsite so visitors could enjoy food and drinks without getting wet or shelter from the sun.
Using Serge Ferrari's Flexlight Lodge 6002, in a taupe colour, Epic Shelters built a one-of-a-kind rooftop from the strong material. "The total surface of the shelter was 20m in width and 45m long. It was a huge construction and a real eye catcher at the event! As the shelter only requires a roof, the warmth partly stays under it, therefore it's not too warm and not too cold. You can safely sit underneath and stay dry or out of the sun," Serge Ferrari's director tells us.
To build this new 'Es Vedra' you need wooden and steel poles to accompany the Serge Ferrari Flexlight Lodge 6002. You initially lay down the sail on the ground and using a loader place the steel pins in the ground. Once that is completed, the wooden poles are placed on the outside up and the steel poles in the middle are driven up with two loaders. When the whole thing is raised you tighten the shelter by pulling on the rattles. After that the shelter is ready to use! Thanks to Serge Ferrari the Flexlight Lodge 6002, it is a very strong structure resisting up to wind force 7.
Subscribe to the Supplier Directory Enews