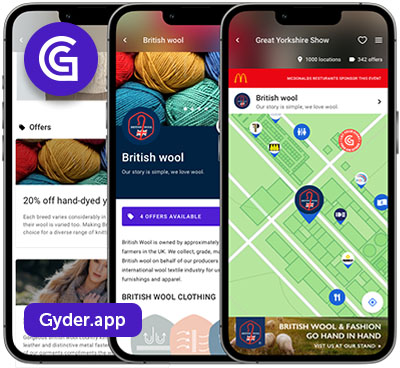 Event app provider Gyder will return to The Showman's Show in 2022 as an exhibitor and work alongside organiser Lance Show & Publications Limited to deliver app-based features. Attendees will be able to access a digital show guide through a detailed micro map in a tie-up that perfectly demonstrates how the company's technology works and can benefit event organisers.
Gyder's micro-maps can detail everything an eventgoer will try to locate. From toilets and parking to first aid and life-saving defibrillators. Visitors can also use its handy menus to locate specific exhibitors and be directed straight to them.
The cost of designing, building and maintaining mobile apps can easily run into the tens of thousands. All apps require ongoing maintenance and dedicated support to ensure content within the app remains up to date and relevant. Those overall costs usually mean apps are out of reach for shows with a temporary presence. What's more, apps that remain dormant outside of show time often become redundant or uninstalled on a user's device.
Gyder's app gives attendees the ability to navigate events, plan their day in advance with its interactive itineraries and strengthen relationships with exhibitors by increasing their ROI as well as the opportunity to generate new revenue streams via in-app advertising. Post show it delivers powerful insights and analytics on how visitors interacted with events. Moving to a purely digital show guide also allows an organiser to reduce its carbon footprint.
Gyder lets exhibitors promote their products and services like never before. Advertising in traditional paper-based publications, such as show programmes is in steady decline. Exhibitors need to connect with their audience, push offers to them during show time and know what products are attracting customers. Gyder has a range of subtle advertising opportunities which are designed to get visitors to their stand and benefit from their offers. Exhibitors love Gyder's range of advertising opportunities, and it creates yet another revenue stream for event organisers.
The company is looking forward to supporting the 2022 Great Yorkshire Show, an event with over 1000 exhibitors and 135,000 attendees. It will be the first ever digital show guide at the event in its 168 year history.