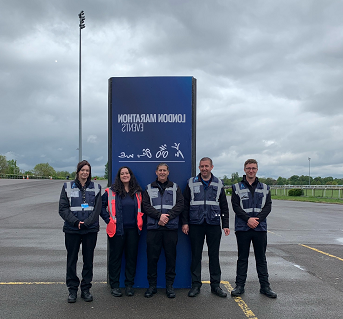 Newman Event Services, a leading provider of comprehensive crowd management and event safety services will be exhibiting at The Showman's Show for the first time in 2022. Based in Oxfordshire, the company has a team of highly experienced event safety professionals who will be on hand during the show to share their experience on serving major events including concerts, festivals, sporting competitions and public events. We chatted to director Dean Newman to find out more about what the company has planned for the year and its stand at the show.
Why have you decided to exhibit at the Showman's Show?
After being visitors for many years, we are extremely excited about exhibiting our event services at The Showman's Show in October. During the pandemic we didn't stop and we're eager to tell everyone what we've been up to. The Show is an excellent opportunity to meet suppliers, network with colleagues and discover the latest innovations in the events industry. We are looking forward to showcasing our services and meeting potential new clients. Not to mention being part of a community that will be exhibiting their services across the whole event supply chain. We hope that the Show will help our business grow even further in the coming months.
What products and/or services will you be showcasing?
Our event services include security, stewards, crowd management, health and safety, infrastructure and traffic management. In recent years we have worked on managing over 40,000 runners at the London Marathon. Being long term suppliers of quality crowd safety stewards like the London Marathon and the Henley Festival is something we pride ourselves in. We look forward to showing visitors how we are the leading provider of comprehensive crowd management and event safety services in Oxfordshire and the surrounding regions.
Will you be launching any new products and/or services?
Every year Newman Event Services looks out for new and exciting services to help their growing client base. NES continues to invest in new technologies to help them in the organisation of events management. This year, NES can now provide mobile CCTV coverage that will be placed where necessary at future events. This will have 360 degree coverage of the whole event, with a full set up to ensure maximum safety and surveillance.
What events are you looking forward to working on this summer?
We're proud to have served some of the biggest events in the UK– including Ride London, Henley Festival and the London Marathon. All of which we have helped year on year, to deliver expert event management and security services. A new one we are involved with this year is the Kite Festival in June; An outdoor music festival with the likes of Grace Jones, TLC and Mavis Staples performing across the weekend. We have also been repeat direct suppliers of crowd safety and traffic management for the Wilderness Festival in August. The Wilderness Festival sees over 20,000 people enjoying a four day celebration of music and the arts.
Do you have anything else exciting to share ahead of the summer season starting?
We have invested in electric site vehicles from UK based company Electric Wheels. Electric Wheels provide practical, efficient, and affordable electric utility vehicles (eUTVs) with zero emissions. We have purchased a customised, brand-new off-road buggy and an electric motorbike in a bid to make themselves a more sustainable company and help the environment. We are excited by the rapid growth and innovation in the world of electric transport, and we hope to work with more electric vehicles in the future.