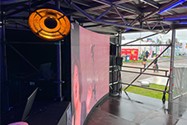 IPS showcased its brand new FOH structure, 7m tall projection tower and curved Chauvet REM 3IP LED Screen at The Showman's Show. The FOH solution formed most of the IPS stand and was on display in a 6m wide by 8m deep two storey configuration. Final specifications and designs are currently underway, and the structure will be available in single, two and three storey versions in a range of depths from 4m to 12m depending on site requirements. The Layher basis of the structure allows for plenty of customisation – such as the location for the internal staircase, and the smart marquee keder based roof gives the structure a neat external profile. The appearance is further enhanced with the silver external wall and roof sheets with black interior to match our other staging and structure systems. The Showman's Show version of the structure also featured a neat Keder Channel mounted banner to the front, as well as an access ramp to the front.
Tucked in next to the FOH structure on the stand was a 7m tall Projection Tower. Clad in solid Layher Protect panels, this structure featured a lockable door leading to an integral staircase. Climbing the stairs led to an upper platform level with a clear window panel providing a viewpoint over the showground, and an excellent position for digital projection. With a compact 2m x 2m footprint, we can supply these towers in a range of heights including 2m, 5m and 7m to match your projection requirements. Also popular are IPS's larger structures with 4m x 4m, 6m x 4m and 8m x 4m footprint, these are available in a range of heights with all kinds of door, window, and staircase configurations.
Displaying images of IPS's recent projects, including footage from the BBC Radio 2 Live in the Park event from Leicester in September was a 3.5m wide by 2m high curved LED Screen. One of the first outings for this new IP65 rated hybrid screen that can be used indoors or outdoors. Advanced processing from the latest Novastar drive racks and input cards means that rich colours can be accurately reproduced. The stand featured 7m2 of Chauvet REM 3IP LED Screen Panels – and with well over 200m2 available from IPS stock, and options for flown, ground stacked, convex and concave curved and custom shapes there are a huge amount of possible configurations to explore.
Battery powered Astera AX1 tubes and Chauvet Well Fit uplighters provided most of the stand lighting, with IPS's new Admiral Vintage style fixtures with LED lamps providing some retro eye candy inside. Exterior lighting was from IP65 rated SGM P-6 LED Fixtures to highlight the structures and banners when the weather got a bit more overcast. These were just a small selection from the vast range of lighting equipment that is ready to hire now from IPS.
The stand power requirements were met quietly and efficiently with an IPS JCB 40kVA Stage V generator tucked behind the structure. Fitted with and external fuel tank for long running hours, the HVO powered generator ticked over providing power for the LED Screen and other technical equipment, as well as the coffee machine, fridge – and large three phase heater making sure that the stand was toasty warm. IPS has a growing range of energy efficient generators available to hire, as well as all the distribution and cabling infrastructure to get the power you need where you need it.
The team had a very busy couple of days at the show, and lots of interesting conversations. They would like to thank everyone that visited, and all the people that helped make the show a success.