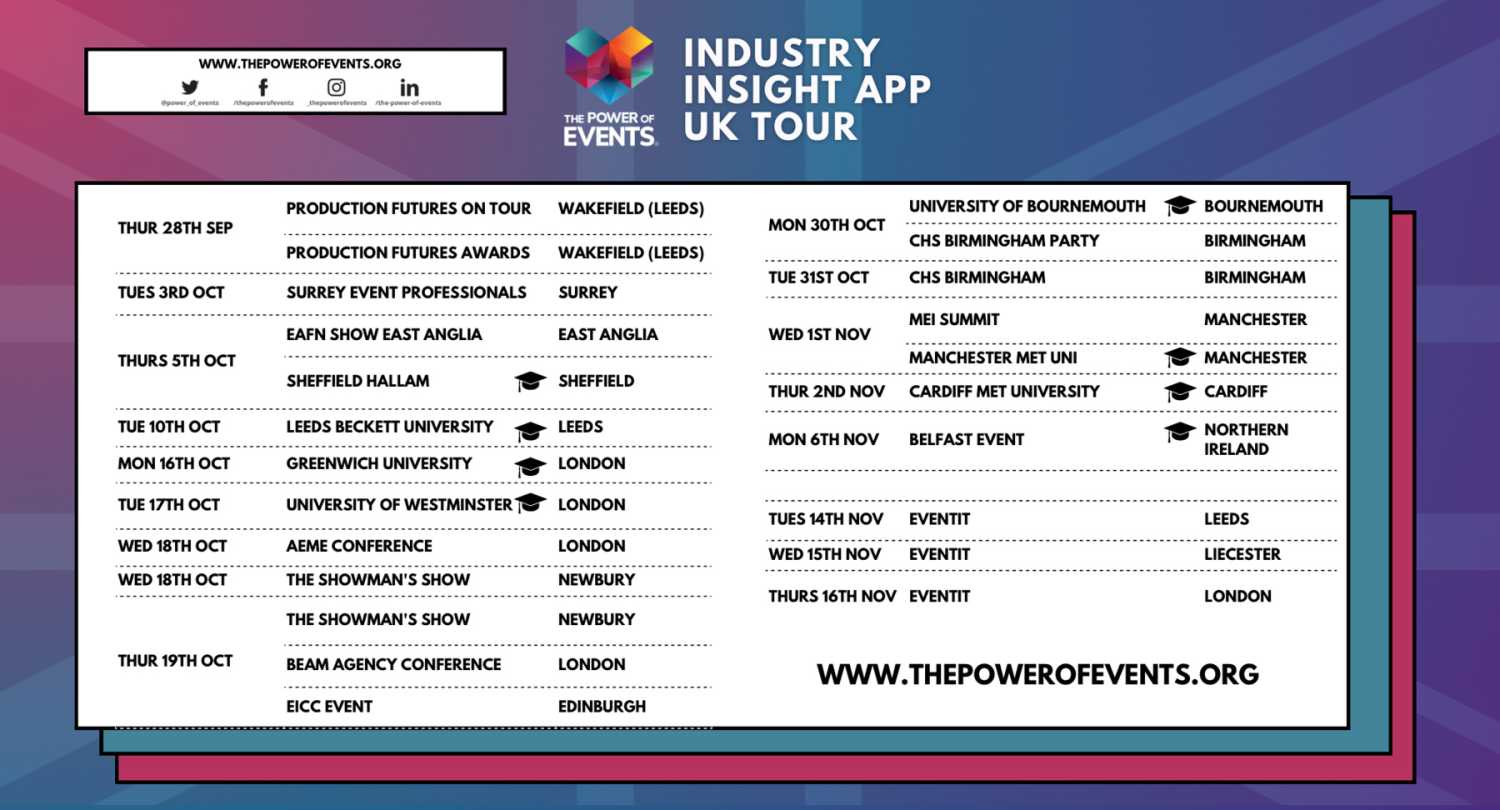 With The Power of Events much anticipated Event Industry Insight App successfully launched and the details of a cross-four-nation tour announced, we talked to founder Rick Stainton to discuss just how important the research project is to the industry.
"As with all our projects, the industry asked for an engaging and digital product that worked for the 21st century. Whilst there are pockets of good stuff out there, we believe that the app is unique in how it reaches across the seven sectors and all four UK nations. Collaborating with academia and universities to leverage the tool to collate data will bring huge benefits to the industry in terms of trend analysis, insights and performance improvements.
The app looks like our platform and is really easy to use. It literally takes 90 seconds to download and register your details. We're also looking for people to nominate themselves as representatives of their company as this will help when we launch the research side which is coming in mid-November.
Several organisations are already looking to deploy the app to support research projects – including Leeds Beckett University, LIVE, Handle Freelance Solutions, UK Live Event Freelancers, Forum and The BACK LOUNGE – with more in the pipeline.
The app will be promoted via The Power of Events' Cross Four Nation Tour, which will include over 20 engagements throughout October.
The tour began last week up in Wakefield at Production Futures ON TOUR and will head to Wales, Scotland, Northern Ireland and across England. The team will additionally visit university and industry partner events. It's a demonstration of our commitment to collaborating with the entire industry and the whole of the UK. There are stops in Surrey, East Anglia, Sheffield, Leeds, London, Edinburgh, Bournemouth, Birmingham, Manchester, Cardiff, Northern Ireland and Leicester.
Not forgetting Newbury, we're really excited to be attending The Showman's Show on 18th and 19th October and particularly to partner with you and Production Futures to deliver Your Calling, a pop-up job clinic.
Throughout the tour, there will also be prize draws. Attendees can participate by downloading and registering on the app, for a chance to win tickets for: NFL London, ATP Tour Finals, Bournemouth 7s Festival, Drumsheds gigs, a choice of one of Reading/Leeds/Wireless/Latitude festivals, Disney100 at ExCeL London, a complimentary stay at The Celtic Manor Resort, event diploma courses, and event industry awards tickets.
Our mission is to understand, respect and value the industry. Once the research side is live and we start to gain data and insights it will be really powerful in lobbying government, sharing industry insights with the national media, attracting investment and also helping us appeal to the next generation. It's there for the use of the whole industry so I can't stress strongly enough how important it is to download the app and get involved.