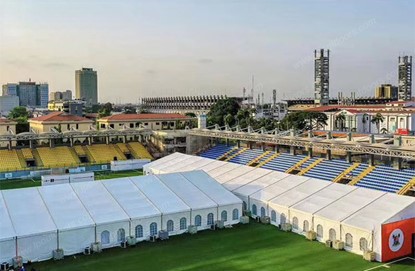 As one of the top tent brands in China, LP Outdoors has rich industry experience, diverse tent varieties and good product quality. Although the epidemic has swept the world, it has managed to overcome the difficulties, waiting for the recovery of all walks of life and hope to work together to promote business prosperity.
Work Together to Overcome Difficulties
When the epidemic first started, the LP team was closed for Chinese New Year. The company's management encouraged them to adapt quickly in line with its ethos to share, embrace and change.
When the epidemic began to become uncontrollable, it began manufacturing face masks and infrared thermometers.
In addition, one of its clients from Lagos, who normally hires tents to weddings, parties and trade fairs, provided two 20×70m large tents for use as temporary hospitals. In just three days, this sturdy, waterproof and sun-proof large temporary quarantine medical tent that could accommodate hundreds of beds was built.