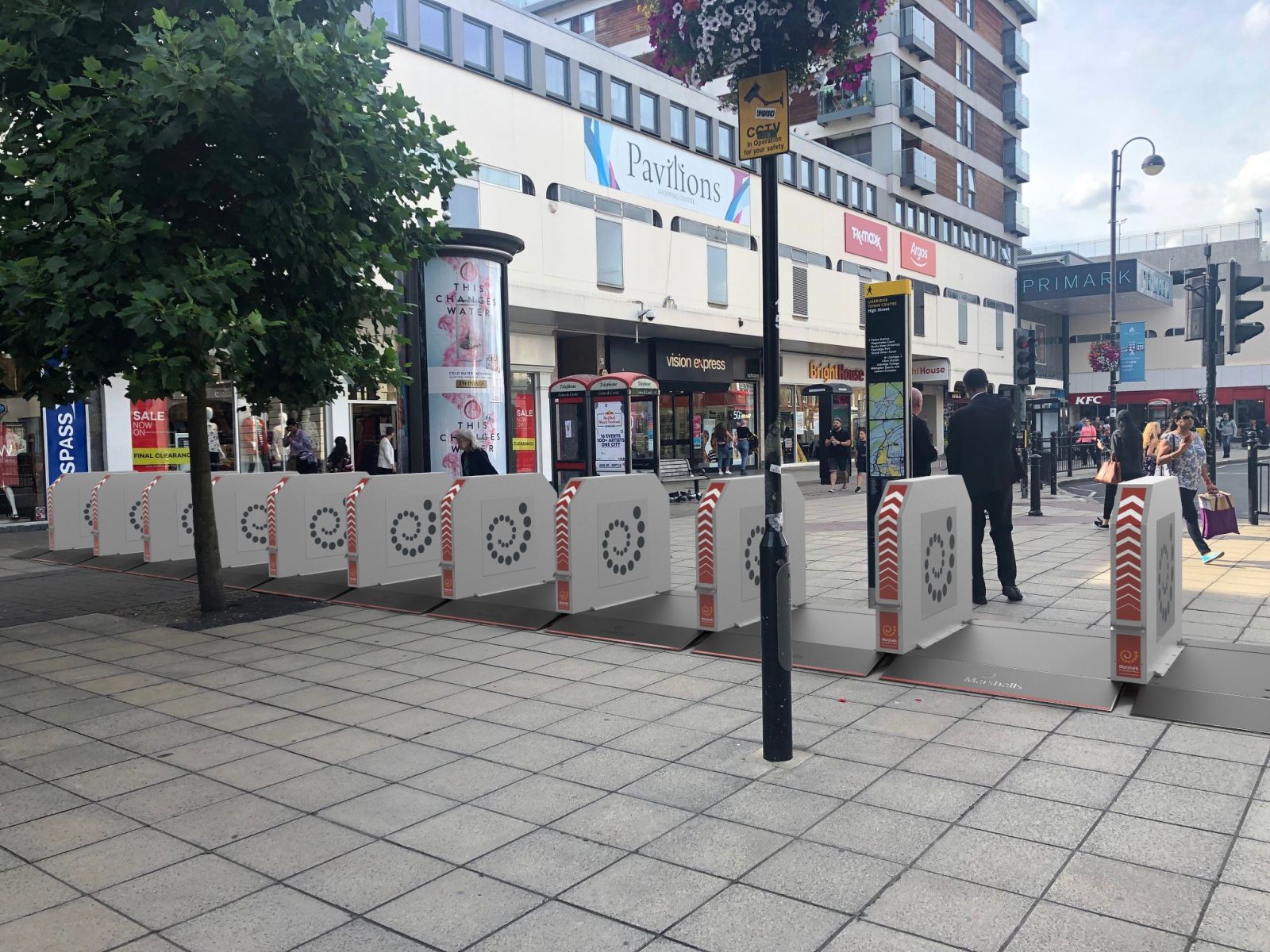 Marshalls Landscape Protection has recently launched a new solution, The RhinoGuard® Steel GateKeeper™ which it will be demonstrating from its stand at The Showman's Show this week. It is a temporary hostile vehicle mitigation solution for protecting crowds of people gathering at events such as sporting fixtures or Christmas markets, to protect against the threat of terrorist-borne vehicle attacks or accidental collisions.
The RhinoGuard® Steel GateKeeper™ offers a product that is quicker and easier to transport, install and remove, compared to the standard approach of deploying large concrete blocks and metal barriers. Whereas that method is essentially based on placing dead weights in the path of any oncoming vehicle, the GateKeeper™ system is engineered to deliver maximum stopping power. Crash tested to the International Workshop Agreement, (IWA) 14.1, the latest security standard for barriers used in hostile vehicle mitigation, GateKeeper™ provides protection against vehicles weighting up to 2.5 tonnes and travelling up to 30mph.
Unlike the majority of the Marshalls Landscape Protection range, which are designed to blend seamlessly into street scenes whilst also providing a high level of protection against vehicles, the GateKeeper™ product is surface-mounted and doesn't need to be anchored. It also doesn't rely on kerbing or any other structural aids, giving users complete flexibility on where they are positioned and, because of its lightweight design, can be lifted and installed by a team of four.
Owing to its modular and lightweight design, individual elements of any installation can also be removed at any point to provide immediate access to emergency service vehicles and it is suitable for all surfaces and uneven ground levels.
One of the key benefits of the innovative new design is that it is much better suited for temporary use, without compromising on the level of protection delivered.
RhinoGuard® Steel GateKeeper™, which launched this year, has been developed specifically to address this need for a truly temporary solution which will be effective while in place but also quick and easy to remove after the event has finished.
It is also fully galvanised to protect against corrosion and is available with the option of powder coating and branded customisation, providing an ideal solution for use on busy high streets or outside sports stadiums too.
Jaz Vilkhu, managing director of Marshalls Landscape Protection, said: "We know there is significant demand for an easily deployable, temporary solution to the threat of hostile attacks and accidental vehicle collisions that are less intimidating than crude, concrete blocks. This has driven our research and development efforts and the result is a crash-tested, versatile product that doesn't require pinning to the ground or kerb."
To view the RhinoGuard® Steel GateKeeper™ visit stand 270, avenue E.