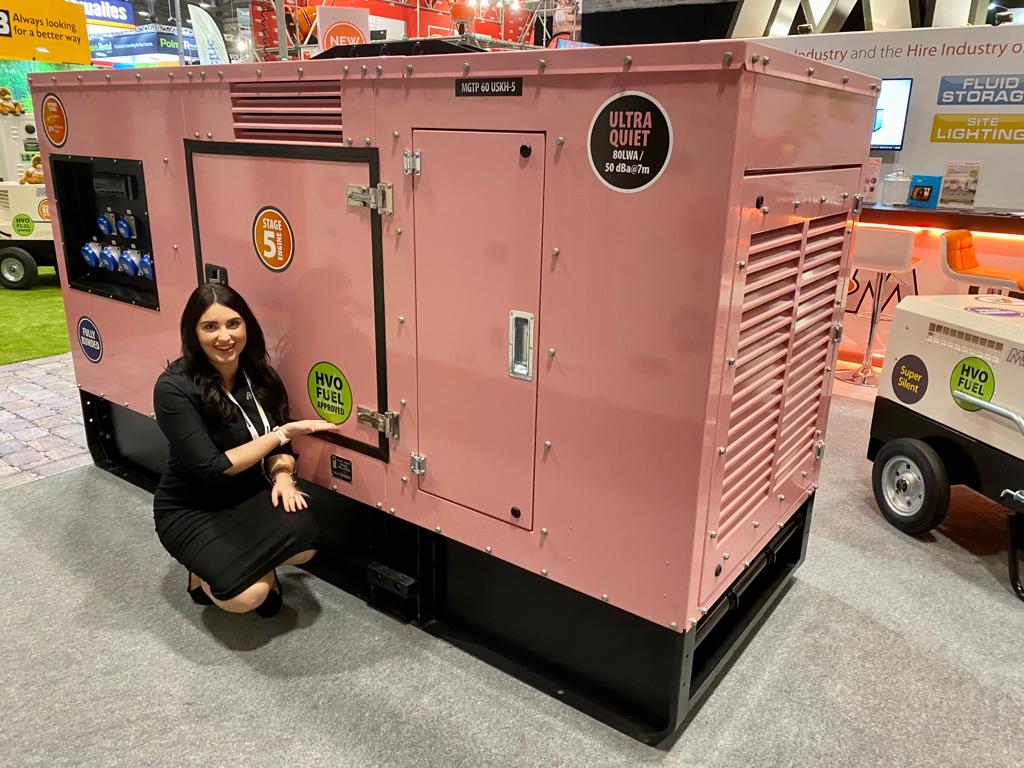 Increased demand from the events sector and film industry has led to the expansion of a dedicated range of ultra-quiet generators.
Plant equipment provider MHM has expanded its range of Event Ready generators, which now covers models from 10kva to 500kva. The units, painted in a distinctive pink livery, all feature MHM's ultra-silenced technology, reducing noise emissions to as low as 50dBa at seven metres.
Brad Ireland, group sales director for MHM, said: "We've extended the Event Ready range due to increased demand for these products from the event and film industries. They are quiet, reliable and robust machines that are specifically designed for outdoor events or use on movie and TV sets, providing the same power as our standard MHM generators with the benefit of reduced noise levels."
The generators all have Stage V compliant Kubota, Yanmar, Kohler or Iveco diesel engines and are compatible with HVO fuel, enabling the user to reduce their emissions. They also feature MHM's unique automatic engine protection system. This shuts down the engine to prevent damage caused by issues such as low oil pressure, low fuel, battery charge failure, and high engine temperature.
Other standard features include deepsea panel, a three-way fuel valve, 12V battery isolator switch to minimise the risk of a flat battery, and a fully bunded base to prevent fuel leaks or spillages. Transport around site is made easy with an integrated lifting eye and forklift pockets. Designed with the UK and Ireland hire markets in mind, the Event Ready generators also feature an engine oil drain pump to reduce service time.
"Demand has soared for the Event Ready range," added Brad. "Our customers tell us they like these machines because they are user-friendly, durable and reliable. It was important to us to keep all the key benefits of our standard products while making them as quiet as possible.
"It is great to see the UK and Ireland opening up fully after covid and there is huge pent-up demand for outdoor events. We're delighted to be helping to power these events with generators that can reduce both noise and fuel emissions."
Incorporated in 2010, MHM has rapidly grown into a leading supplier of equipment to the UK and Irish rental markets. It specialises in power generation, fluid storage, site lighting, and solar-hybrid generators. All products are available for purchase or cross-hire; however, MHM only hires equipment to hire companies, never directly to end users. It also offers finance and leasing packages.