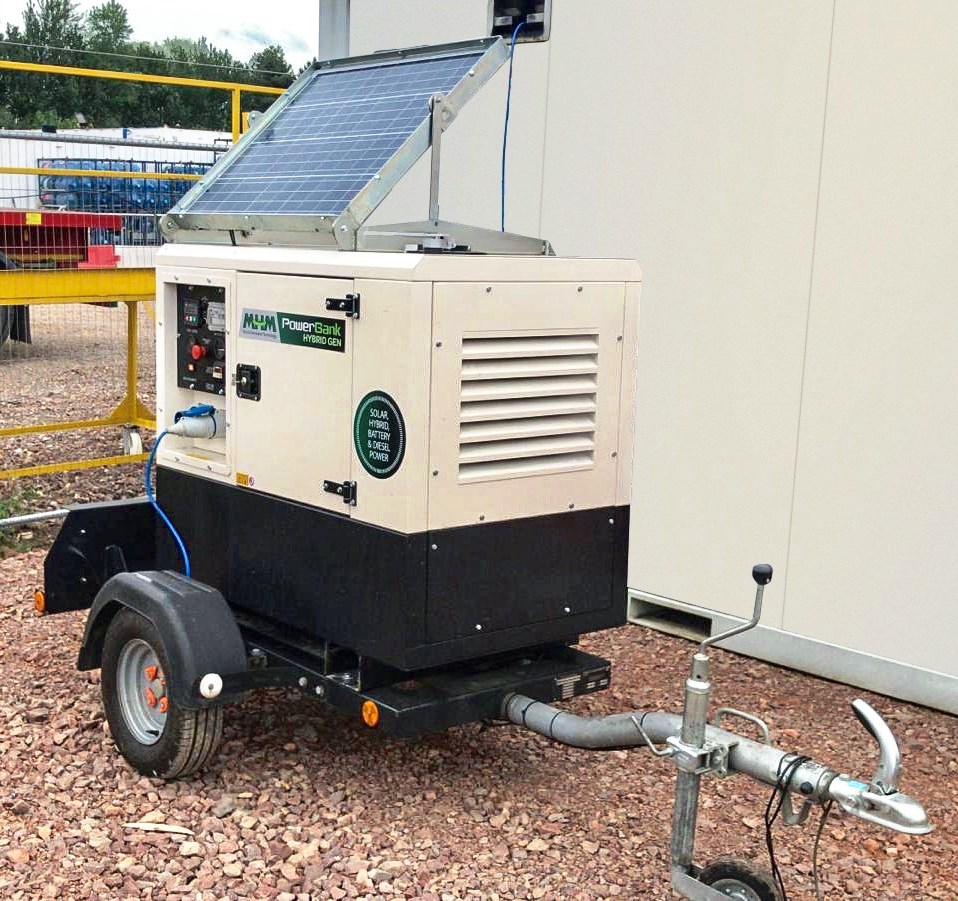 If you are an event or festival manager and you are driven to seek out the most sustainable equipment for your next project, then a visit to Stand 190, Avenue C must be your first port of call.
Power generation and site lighting specialists, MHM Plant are planning to showcase a complete range of environmentally slanted equipment at this year's Showman's Show.
Taking centre stage will be two of their latest innovations; the MGTP 6000 6.0kVA solar/hybrid generator, alongside the MG 6000 SSY-ECO 6.0kVA 'intelligent' automatic start/stop generator.
The MGTP 6000 has all the attributes of a standard site set with the exception that it runs almost exclusively from non‐fossil initiated fuels. The MGTP 6000 features a fully adjustable roof mounted high efficiency solar panel which will provide power to the sealed lead acid batteries in all UK weather conditions. A recent test showed that over a 47 day [1128 hours] period, the engine only ran for 11% of the total time and consequently saved up to 4.9 tons of carbon emissions.
MG 6000 SSY-ECO is a 6.0kVA power generator that has a built‐in ECO auto stop/start module that instructs the generator to automatically start when power is needed. Conversely, the engine stops when the demand for power finishes. Once set up on site no further human interaction is needed. Trials have shown that over a three day period 52.17kg of carbon emissions were saved.
Clean, bright lighting is also a prerequisite for outside events. MHM will be displaying three advanced lighting sets that deliver safe lighting levels and reduce fuel costs and carbon emissions. Their X-SOLAR HYBRID, X-POLE and BABY-LITE [with an energy saving LED battery pack] will be ready for inspection for environmentally conscious event managers.
The X-HYBRID SOLAR lighting units are powered through an individually designed hybrid power supply system. This comprises of a solar panel connected to rechargeable batteries backed-up by a small diesel engine. The combined system substantially lowers fuel usage with a corresponding reduction of CO2 emissions. The X-POLE SOLAR is powered exclusively via battery and solar panels thus completely eliminating any carbon output.
The BABY-LITE (LED-4) is manufactured exclusively for MHM. It features 4 no. 200W LED lamps fitted onto a 360º swivel and tilt lighting head, with a 4m vertical stainless steel manual mast. The base has been configured to accept most brands of petrol or diesel generators, from 2 – 6.5kVA. This gives the operator complete flexibility to choose their individual power source.
Mat, Rob, Brad, Steve and Megan will be on hand throughout the two days of the show ready to give details on all the features and benefits of the MHM range equipment and how they can enhance your event or festival.
MHM supplies their range of equipment throughout the UK and Ireland via its' three depot network. The MHM Plant head office is based in Port Talbot, South Wales. The company offers three options: To purchase brand new or quality used and, exclusively for bone fide hire companies, MHM provides an extensive rehire service throughout the UK and Ireland.