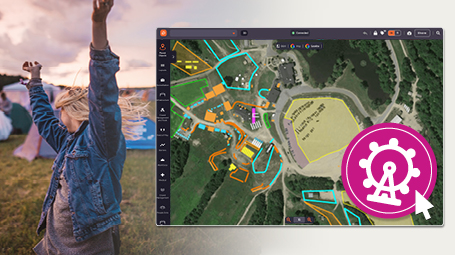 OnePlan is the award-winning software that lets you accurately map and plan your event. The platform is trusted by over 25,000+ events worldwide, including music festivals, town events, weddings, and more. All gaining from the environmental sustainability benefits the software enables, including a substantial reduction in the need for site visits.
The easy-to-use software enables event organisers to visually plan their event sites collaboratively with stakeholders, and with pinpoint accuracy. Plans can be shared in view only or edit view with permission at the click of a mouse. Speeding up decision-making, addressing issues early, reducing the need for face-to-face meetings and ultimately saving time and money.
OnePlan will be at the Showman's Show this year with its specialists ready to help you create your event site map! The event map designer can create high-quality, customised, accurately designed plans for your event, at speed. They can work from photos, previous plans or even just a conversation to get going. Share with them what you need to create your event plan and they'll make it happen!
The software can also convert your event plan into a public-facing map! A specialist designer can create professional, public-facing maps tailored for your event. You can then put these on your event website, in printed guides and brochures, send them via email or use them however you want! Make sure to stop by OnePlan's stand at The Showman's Show 2023 to discover how it can transform your event planning.