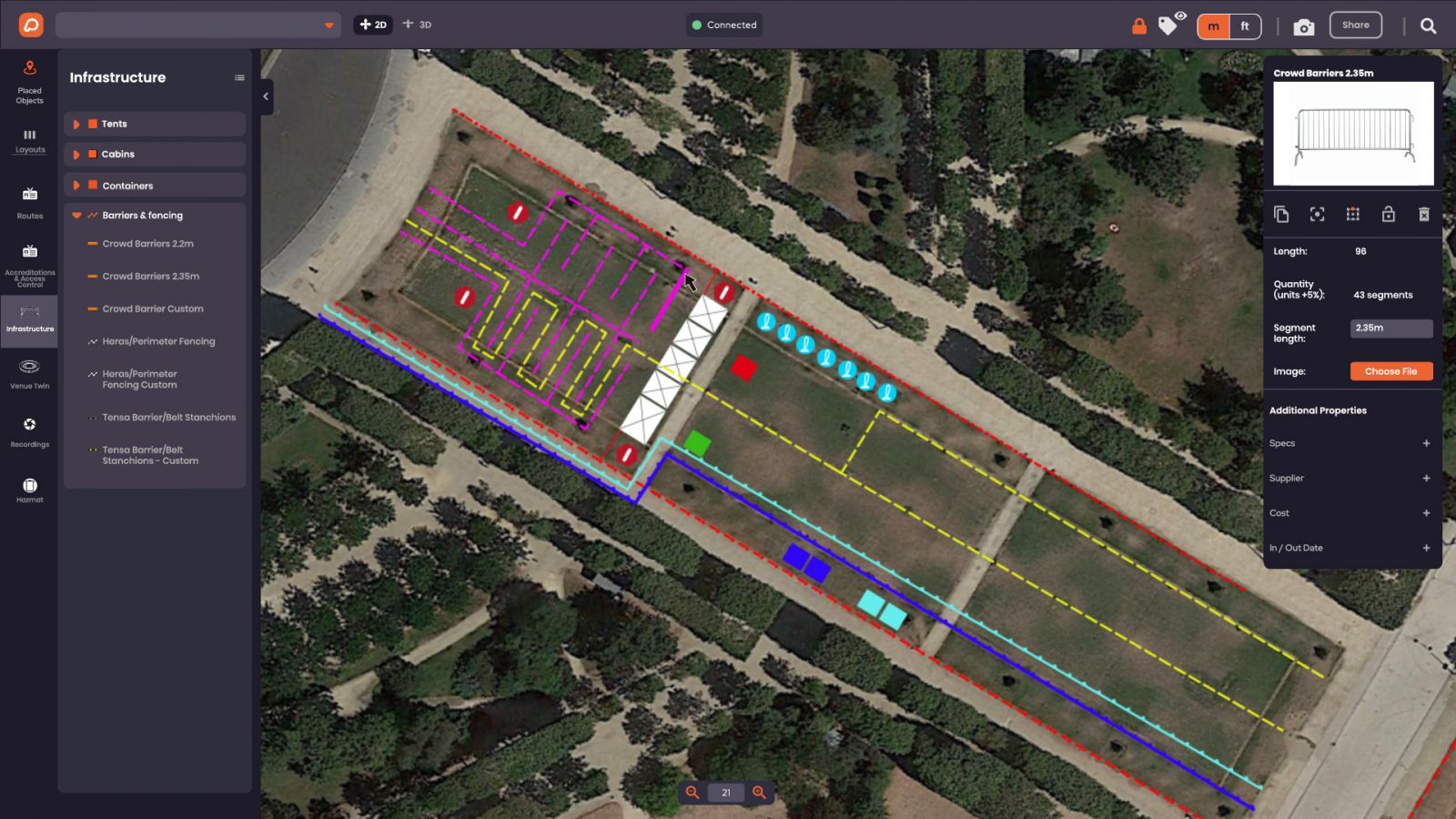 OnePlan, the UK-based event site planning platform, has been named a partner for the Olympic and Paralympic Games Paris 2024, which will use OnePlan's GIS Mapping and Venue Twin software for greater efficiency and collaboration. This is the first time an Olympic and Paralympic Games has chosen a partner for GIS Mapping and Digital Twin Software.
OnePlan enables event organisers to visually plan events and venues together. Indoors or outdoors, it empowers event planners to collaborate in one plan like never before. OnePlan's intelligent tools, which have been used for over 8,000 events and venues across more than 100 countries, instantly show area space and capacity sizes, and feature real-time inventory management dashboards.
The placement of infrastructure such as barriers and fencing, vehicles, teams and volunteers, and so much more, can easily be positioned in one visually accurate plan. Event planners, partners and suppliers can work together in real-time, to plan ahead for any scenario, reducing risk at venues and their surrounding areas.
"This will be an Olympic and Paralympic Games powered by innovation," says Tony Estanguet president of Paris 2024. "The way in which we use technology is evolving, and our partnership with OnePlan will facilitate the work of our teams and our entire ecosystem. We will be able to leave a new way of organising events helped by technology."
OnePlan incorporates the world's best selection of 2D, HD, aerial and satellite maps, and allows users to integrate existing computer-aided design (CAD) files. The level of detail and collaboration OnePlan provides has the potential to streamline processes for the Organising Committee for the Olympic and Paralympic Games Paris 2024 and its stakeholders.
OnePlan founder and CEO Paul Foster says: "Paris 2024 will be a landmark Olympic and Paralympic Games, driven by innovation and sustainability. Our collaborative, easy-to-use software will streamline the planning of all event and venue operations before and during the Games."