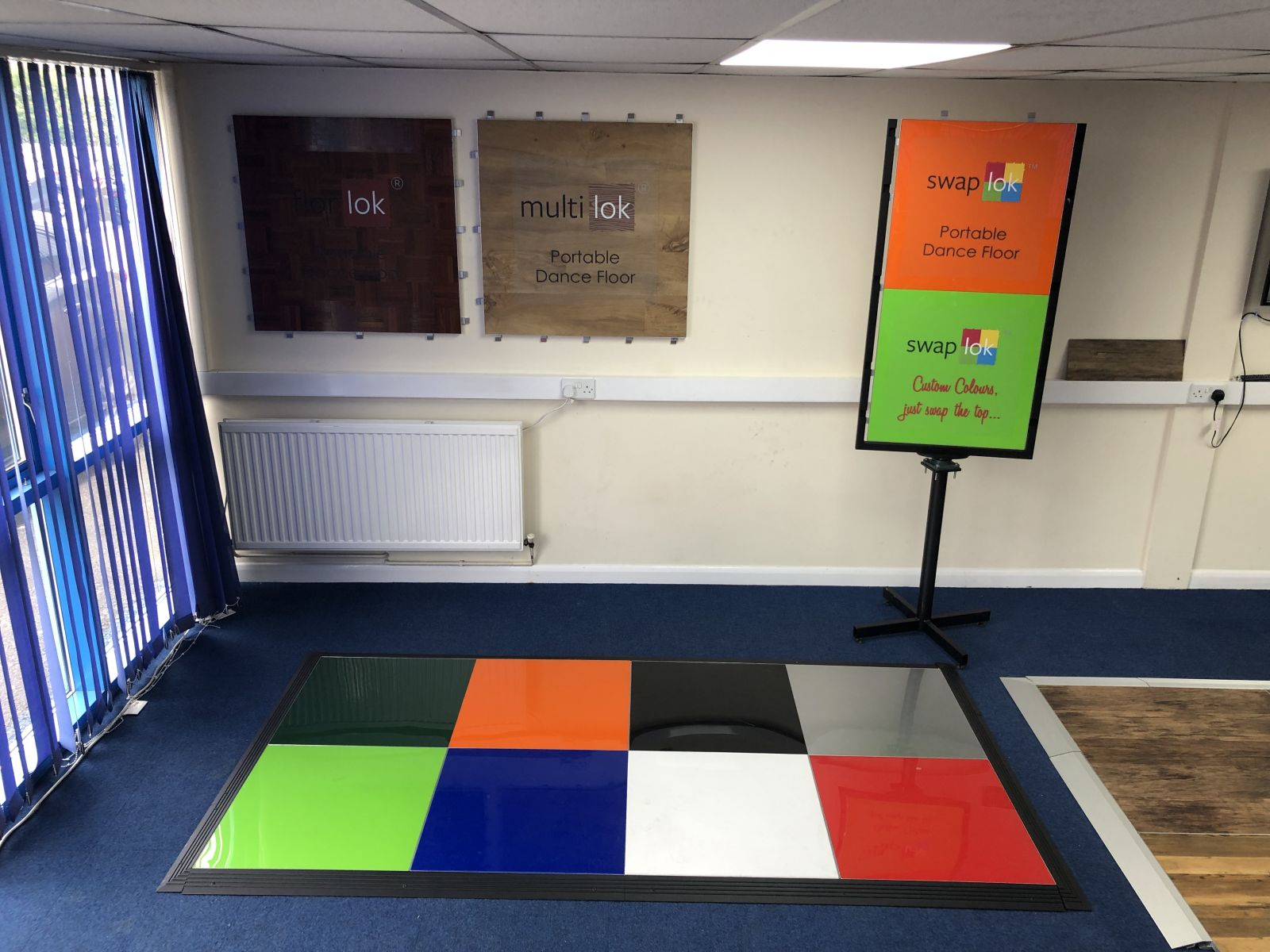 In the 10th Anniversary year of Knoxford Ltd, Portable Floormaker will officially release the new Swaplok™ portable dance floor at The Showman's Show in October 2019.
The Swaplok™ chassis is based around the highly successful Publok® range of portable dance floors in that the full panels measure 4' x 2' and half panels 2' x 2' but the amazing feature is the ability to swap the acrylic surface in the trays themselves enabling owners of the floor to be able to offer their customer bases a bespoke dance floor surface colour range. The trays are manufactured in an aluminium frame with a 5.5mm lacquered plywood base and the acrylic inserts are manufactured using 5.5mm MDF with a 3mm acrylic surface. The MDF has been chosen to reduce the risk of the acrylic inserts bowing when not secured in a tray. 3mm acrylic as opposed to the standard 6mm acrylic used within the Publok® range as the colour choice is much wider and testing has shown it to be able to withstand use under normal circumstances.
The traditional locking system remains unchanged with no tools or screws required to actually lay the floor but two inserts are secured into the full tray by means of 4 main knurled screws and 4 smaller screws to be used in each corner to ensure the insert sits flush within the tray.
The Swaplok® portable dance floor will revolutionise the portable dance floor market with a bespoke but simple multicolour option surface offering clients more choice, gaining our customers more business.
"SWAPLOK…… just swap the top"
Come to the Portable Floormaker stand in the main Exhibition Hall where the company will also be premiering the first Barlok® outdoor portable bar units.