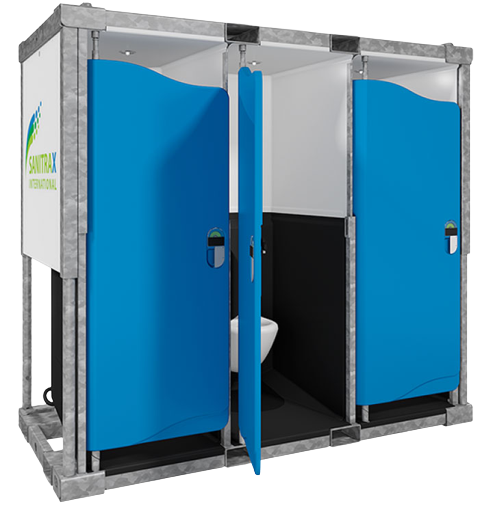 Satellite Industries returns to The Showman's Show with a wide range of sanitation solutions for the event industry.
SANITRAX – Satellite vacuum technology division
Sanitrax is the world's first, retractable, containerised mobile restroom module, housing multiple self-contained toilets that rely on proven vacuum flush technology. Environmentally friendly in every aspect, it is the most hygienic temporary restroom facility currently available.
Retractable modules are designed for efficient transportation. Retracting to approximately half the height (when NOT in use) saves space during transport and storage. Depending on local legislation, you can transport up to 24 retracted modules in one transport – that is 72 toilet seats in one go!
The deployment is made as easy and quick as possible with the help of a forklift and two people. The toilet retraction can be done very efficiently in less than 1 minute.
Sanitrax offers a complete range of products and solutions. The range includes toilets, urinals, handwashes, ADA-compliant units, VIP toilets, and showers.
Scanvogn - Satellite Trailer division
Scanvogn manufactures a wide range of mobile lightweight solutions. These lightweight solutions are based on trailers that can be easily transported from one location to another. The company's products are used in various construction and event industry sectors.
On display will be the 3+1 vacuum trailer, self-sufficient and economical with a special construction method.
3 ladies' compartments
1 men's compartment + 2 urinals
VIP interior with ceiling cladding & LED
Vacuum technology saving up to 90% water
Built-in water supply & waste tank
Technical compartment
Liberty II: The NEW generation.
The new Liberty II was created with innovation, durability, and design in mind. Be the first to witness its customised interior, it has 2 urinals to accommodate more of your gentlemen customers in one run.
Visit Satellite Industries on Avenue D, stand 209.