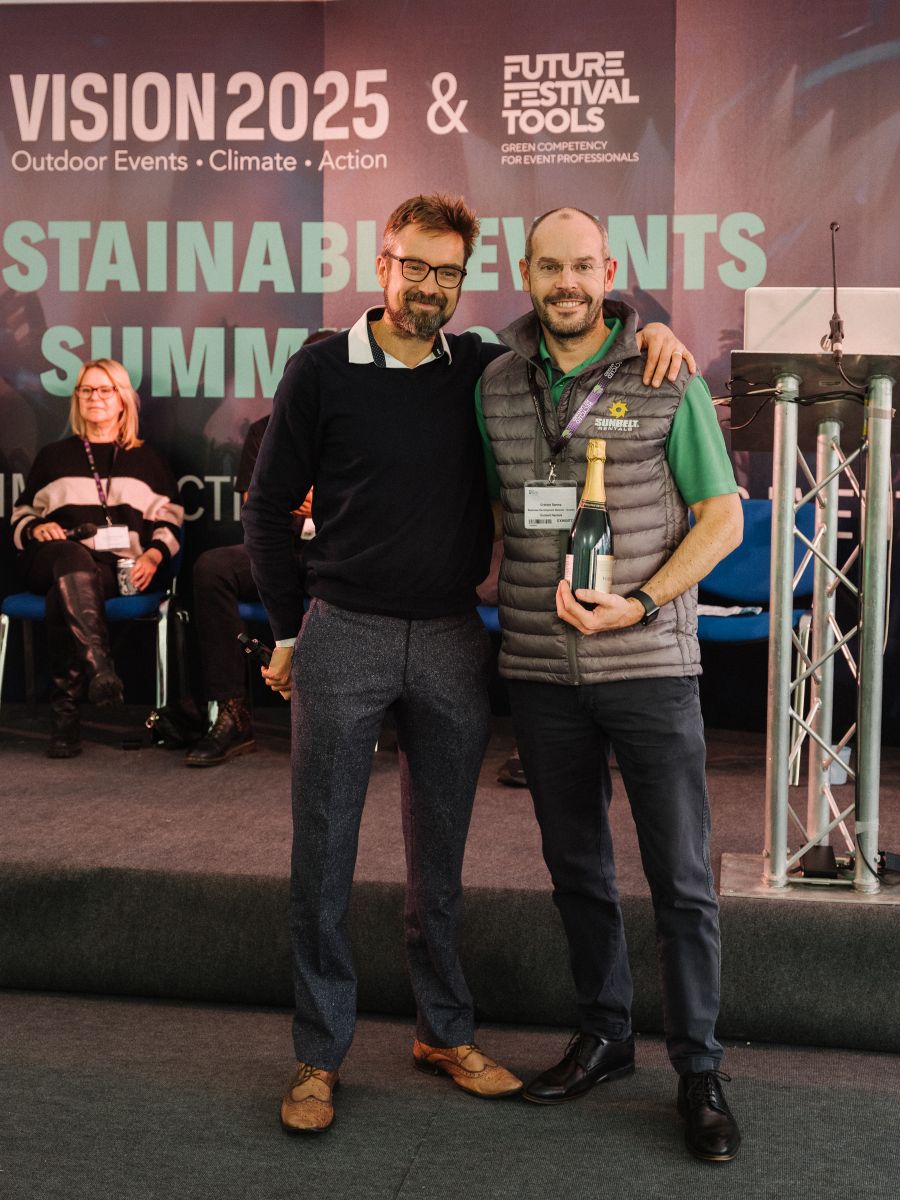 Sunbelt Rentals has won the Green Supplier and Innovation Award at the Showman's Show, which took place on the 19 & 20 October 2022 at Newbury Showground.
The Green and Innovation Supplier Award recognises the sustainable solutions and positive changes exhibitors are making to their businesses, products and services.
Sunbelt Rentals award winning presentation showed how they are truly leading the way when it comes to delivering outstanding and innovative green practice. Detailing how environmental considerations are central within their procurement policy, so much so that 50% of the new rental equipment purchased over the last 12 months is classed as sustainable.
The business is considered a 'green' supplier - delivering solutions that have been described by customers as 'ground-breaking' - these were relied upon by the Foreign, Commonwealth & Development Office (FCDO) to deliver carbon neutral events such as the United Nations Climate Change Conference which took place in Glasgow and the G7 Summit in Carbis Bay.
Sunbelt Rentals are the first rental company to introduce electric bikes to their fleet, providing carbon-free travel for events, reducing emissions and creating a safer environment by reducing vehicle movements.
Green practices are central within the businesses 10-year sustainability strategy called 'Towards a low carbon and sustainable future' and they have developed a strategic action plan called 'Our Planet', which is their blueprint for a greener future.
Graham Dames, Events Business Development Director at Sunbelt Rentals said:
"We're delighted to win this prestigious award. At Sunbelt Rentals protecting the environment and developing green practices is central to our strategic direction. Our Planet highlights our mission to act responsibly, safely and sustainably at all times ensuring we do the right thing for our customers, our communities and our planet.
"We pride ourselves on our innovation and creativity and last year we launched 360 Solutions, whereby we offer a complete event infrastructure solution. We are uniquely placed as the only rental company in the UK to offer such a solution with a team of experts available to design, manage and coordinate large scale events.
"This provides our events customers with a truly consolidated sustainable equipment solution, where we save time and fuel, cover less miles, use fewer vehicles, supply multiple products from single locations and eradicate the need for customers to use a multitude of different suppliers.
"Sunbelt Rentals is driving towards a low carbon and sustainable future and receiving this award recognises all our hard work."
Johnny Lance, Event Director, Lance Show & Publications commented: "Huge Congratulations to Sunbelt Rentals on winning The Green and Innovation Supplier Award at this year's Showman's Show. Always popular with our exhibitors, judges whittled down the entrants to three finalists who were invited to deliver a presentation in a Dragons' Den style competition during the Sustainable Event Summit held on the first day of the show. Throughout the presentation Sunbelt Rentals proved its sustainable solutions and the positive green changes it is making.
"The addition of the 'Our Planet' strategy shows how they have fully embraced the aim for a greener future within every part of their business working towards a low carbon and sustainable future for everyone.
"Congratulations again and we look forward to welcoming Sunbelt Rentals back to The Showman's Show in the future."