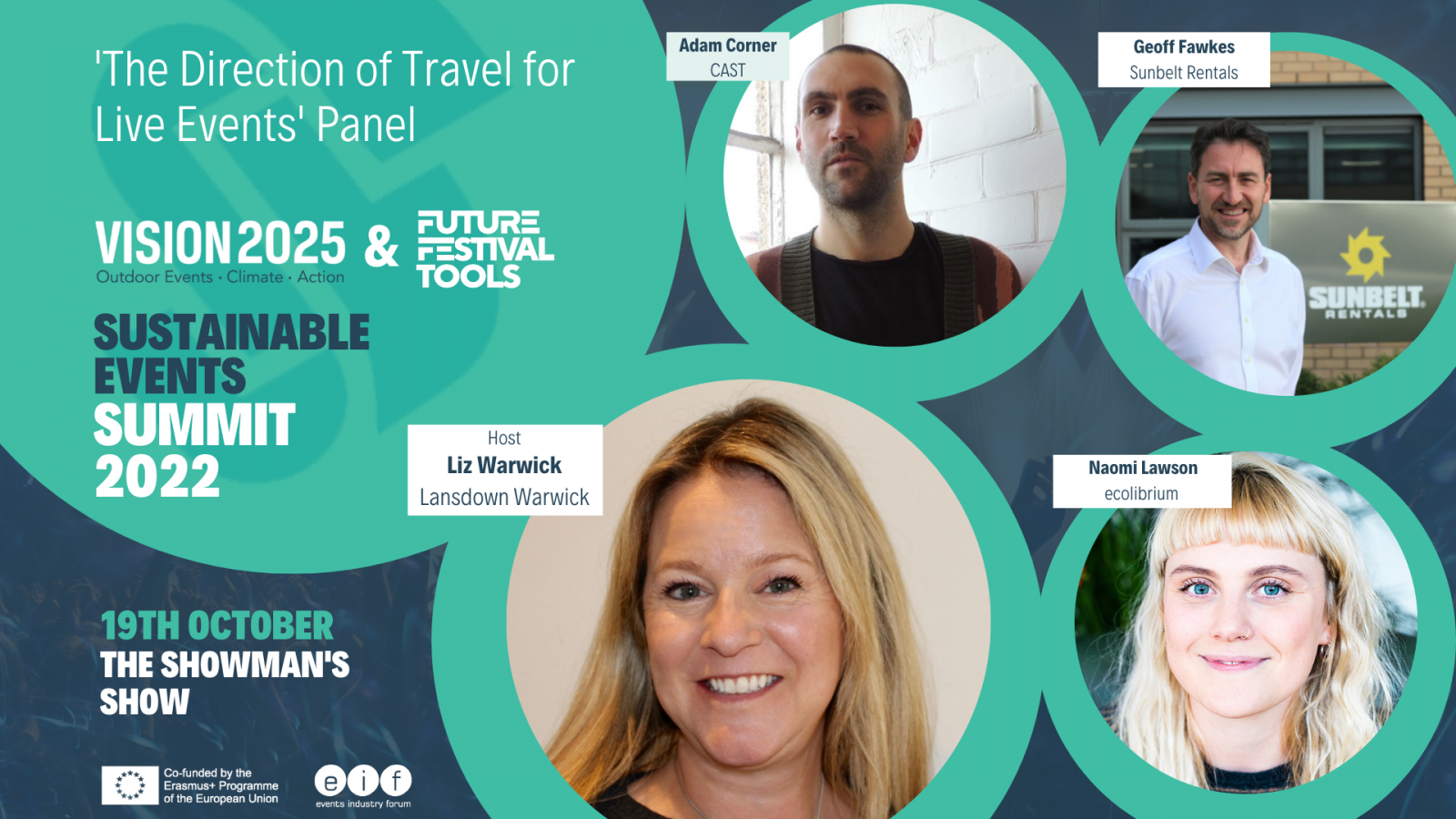 Held at The Showman's Show on Wednesday 19th October, the Sustainable Event Summit brings together Vision 2025 and Future Festival Tools to present an open-to-all afternoon of discussions and sessions with experts, thought leaders and policy makers to inform and inspire outdoor event sustainability action.
The first panel is The Direction of Travel for Live Events, where Liz Warwick (environmental consultant and sustainability lead at Cambridge Folk Festival) chairs an exploration of where things are going on the topic of sustainable travel for events. Panellist Adam Corner, independent climate and culture writer and researcher, joins to share his research on audience travel behaviour for the Centre for Climate Change and Social Transformations and how event organisers can positively influence audiences' travel choices. Geoff Fawkes, Sunbelt Rentals, speaks about Sunbelt's 'Sustainability Plan 2030,' which aligns with eight of the 17 UN Sustainable Development Goals and strives to create social impact, social value and to achieve lasting legacies through Sunbelt's work. Naomi Lawson, project manager for ecolibium, will give an insight into how this event industry charity has supported over 120 members to measure and reduce their travel carbon impacts and carbon balance over 19 million miles of unavoidable emissions with investment in climate solutions programmes across the world.
Adam Corner, direction of travel for live events panellist, comments: "There's so much untapped potential for festivals and live music events to go beyond reducing their carbon footprint and use their 'cultural footprint' to create change. I'm looking forward to joining the discussion around sustainable travel and outlining what we've learned from our research with the music industry and audiences this year on positively influencing travel choices."
The Sustainable Events Summit is free to attend and open to all: Register your interest in attending HERE.