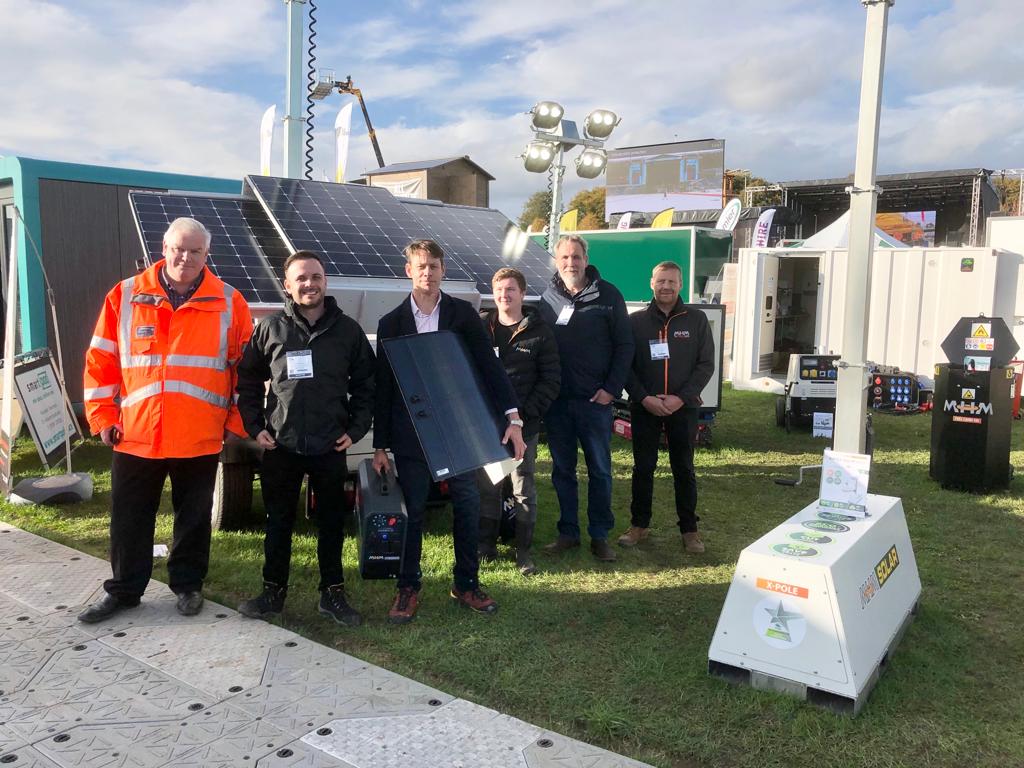 The MHM Group is a supplier of environmentally focused power generation, solar-hybrid-generators, leak-free fluid storage, sustainable lighting towers and emission-free battery power packs to UK and Ireland event rental markets. The company was incorporated in February 2010 and has its headquarters in Port Talbot, West Glamorgan. MHM is closely aligned with an Italian manufacturing company, Tekno Proget S.R.L, a leading company in the design and production of high-tech generators and related machinery.
MHM has undergone a significant transformation in the past ten years. The group has now diverged into three distinctive divisions; MHM New Equipment Sales, MHM Used Equipment Sales and MHM Rehire Division. The development of these new divisions is part of their overall business objectives to continue to grow by adding environmentally focused new products and expanding their services. The MHM Rehire division hires lighting towers, generators and associated equipment to rental firms that works alongside outside events. They don't hire directly to an end user.
The MHM Group has one overriding aim - to drastically reduce (or even possibly eliminate) the amount of diesel used to fuel generators and lighting towers on outside events by introducing equipment that is powered principally from renewables. From the outset MHM have always placed environmental issues at the heart of their designs. They engage with likeminded firms in the event markets to evaluate and field test their innovations in real time scenarios.
MHM are currently working with a manufacturer of flexible, thin solar panels to provide energy for generators and lighting towers.
The result of this cooperation is a new lighting tower that will be of keen interest to all environmentally aware event managers. Entitled the ST-9 Diesel-Free Lighting Tower, this innovative piece of equipment is an advanced, industry-suited, eco-biased, mobile solar lighting tower. It features a 9 metre vertical mast, four energy saving and long lasting LED lamps. The ST-9 is powered by a combination of a battery pack and trusted solar panels, rendering it emission-free with zero noise and no fuel costs. It can also be supplied with anti-vandal, shatter-proof flexible solar panels.
The ST-9 Diesel-Free Lighting Tower complements the current MHM range of Solar-hybrid lighting units. These established sets are powered through an individually designed hybrid power supply system which comprises of a solar panel connected to rechargeable batteries backed-up by a small diesel engine.
MHM are also pioneering the use of hybrid and 'intelligent' automatic start-stop power generators. Their MGTP range of generators has all the attributes of standard site sets with the exception that they run almost exclusively from non‐fossil initiated fuels. The MGTP range features fully adjustable roof mounted high efficiency solar panels which will provide power to the sealed lead acid batteries in all UK weather conditions. A recent test of the MGTP 6000, a 6.0kVA generator, showed that over a 47 day [1128 hours] period, the engine only ran for 11% of the total time and consequently saved up to 4.9 tons of carbon emissions.
MG SSY-ECO range are power generators that have a built‐in ECO auto stop/start modules that instructs the generator to automatically start when power is needed. Conversely, the engine stops when the demand for power finishes. Once set up on site no further human interaction is needed. Trials of their MG 6000 SSY-ECO, a 6.0kVA set, have shown that over a three day period 52.17kg of carbon emissions were saved.
For ultra-low emission power, MHM have introduced a line of 'Batpacks'. The MHM Batpacks are heavy-duty, robust and deliver a reliable power source driven by a Lithium iron phosphate battery. The Batpacks can be recharged via a solar panel or a standard diesel generator. As the Batpacks are fully re-charged in just three hours and with the solar panels being the first option, MHM have demonstrated that a generator would only be in operation sporadically.
The MHM Rehire division has Hire Association Europe (HAE) SafeHire accreditation and the whole group is a full member of the HAE Hire Industry Trusted Suppliers (HITs) scheme.
Whilst being disappointed that they can't be there in person, the MHM team are still looking forward to the 'virtual Showman's Show'. Their full range of equipment will be on 'display' via their website (www.mhmplant.co.uk) and on all the usual social media channels. Any interested 'visitors' can contact them by telephoning +44 (0)808 168 9099 or emailing sales@mhmplant.com.
They are looking forward to your call.