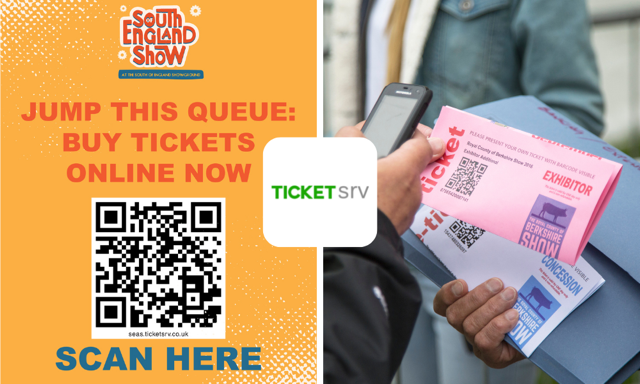 TICKETsrv pioneered the use of QR codes over ten years ago, way before Covid made them ubiquitous, using them to provide fast and secure entry for some of the UK's largest events. Visit the team on stand 82 in the Exhibition Hall at The Showman's Show to find out more about how the technology works and discover how QR codes can help your event.
QR codes have always formed the basis of its entry scanning, and today TICKETsrv use them on receipts issued by their on-the-gate cash/card sales devices so that they can be scanned alongside advanced prefer advance e-tickets. QR codes can also be added to hard-stock paper tickets and badges, as well as promotional posters/flyers for a fast and efficient call-to-action. More than ever before, events are going further by using QR codes to provide a convenient way for visitors to 'queue-jump' the on-site sales lanes and book via their own mobile device on arrival - also the perfect solution for events who are unable to take cash/card sales on the gates.
Trusted by Badminton Horse Trials, the Royal Welsh Show and Dorset Steam Fair, amongst many others, it delivers robust pre-sale and on-the-gate sales systems…with customers also enjoying reduced queuing time on-site.
TICKETsrv work across sectors including aviation, fireworks, craft fairs, equine, sports events, transport, camping, shopping fairs, concerts/festivals, agricultural, food fairs and trade shows.