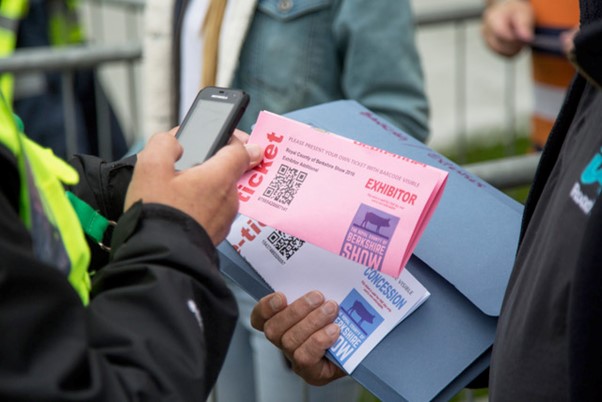 TICKETsrv is looking forward to returning to the Showman's Show to catch up with old clients, meet new ones and celebrate yet another successful year for the events industry.
TICKETsrv is the leading provider of ticketing and entry systems for outdoor events in the UK - as one of their clients said, they are "the biggest ticketing company you have probably never heard of!". The reason for this is simple - they don't advertise widely because the system speaks for itself and most of their clients come to them through word-of-mouth or seeing it in action across numerous events.
Among the many clients who call TICKETsrv their trusted partner are Badminton Horse Trials, The Royal Welsh Show, Chatsworth Country Fair and Sunnyfields Farm, among the many other agricultural events, country fairs, fireworks events, farm centres, historic houses and more.
Unparalleled in terms of entry scanners and on-site sales devices, TICKETsrv provides a seamless system from online e-ticketing and on-site ticket sales, to secure scanning of QR codes allowing thousands of visitors to enter quickly and easily. The system allows for easy tracking of all participants at your event via no-face-value tickets for traders/exhibitors, volunteers, sponsors, press etc.
All your event stats and data is available via your own dedicated portal for complete control and access at all times. All data is owned by you for future marketing and TICKETsrv also provides free support to help maximise your ticket sales.
So whether you are looking to offer e-ticketing for the first time or want to see for yourself what it's like to use the fastest and most secure entry system available, come and visit the TICKETsrv Stand in the Exhibition Hall (Stand 92) at The Showman's Show to catch-up, receive a demo of the platform and discover how they can help you.
Contact TICKETsrv: Tel: 01932 901155. Email: sales@ticketsrv.co.uk