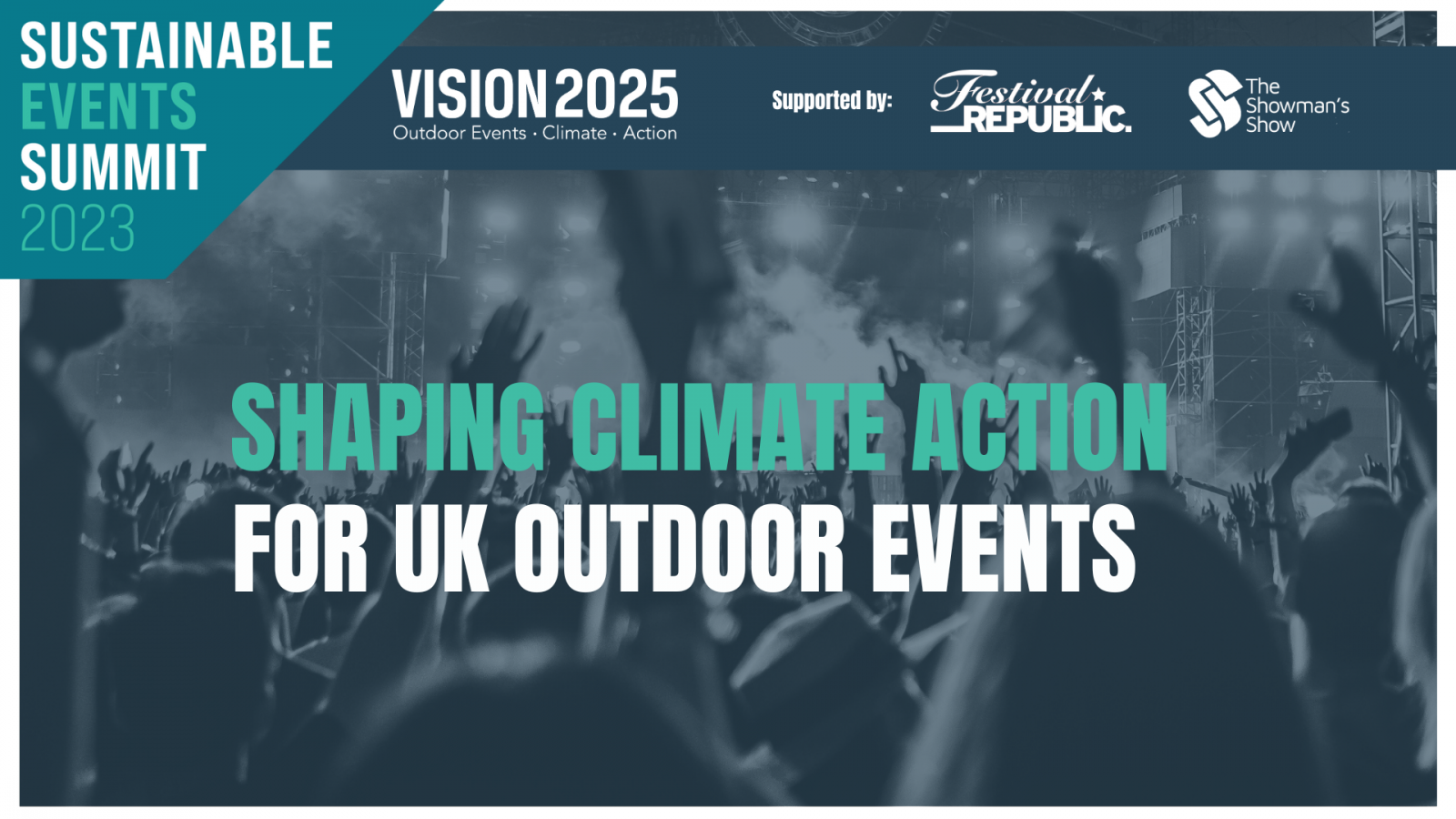 Event Professionals and Sustainability Leaders Confirmed as Speakers for SES 23, October 18th, 2023.­
Vision 2025, supported by The Showman's Show and Festival Republic, continues to shape climate action for the UK outdoor event industry by bringing event organisers, suppliers, climate organisations and green leaders together to share innovations, discuss best practice, and exclusively launch the new environment chapter of the Purple Guide.
The free to attend conference is open for REGISTRATION, with limited capacity. SES 23 is made possible by the support of an amazing range of speakers and event partners: Arena Group, Events Industry Forum, GL Events, LS Events, Pearce Hire, T&L Marquees and Sunbelt Rentals. SES23 takes place on Newbury Showground within the Showman's Show.
John Rostron, Chair of the Association of Independent Festivals, will present the 'Best of the Summer' panel to round up the afternoon, he says:
"We have seen some very encouraging engagement in sustainable practices and positive progress with festival organisers reducing their carbon impact this summer. I'm delighted to be sharing some of those experiences and learnings at SES23 and I'm looking forward to hearing from many of the sectors' leading innovators to drive future improvements."
The morning invite-only session sees Vision: 2025 members and Industry Green Leaders meet for an interactive session exploring best practice in data collection and impact reporting with a roundtable working lunch.
The afternoon open to all panel sessions run from 13:00-17:00, with Keynote Speaker Cathy Runciman, Executive Director of charity Earth Percent UK, starting proceedings by sharing her vision for sustainable, planet-positive events.
13:15- Unpacking Food Sustainability, in association with NCASS.
How can outdoor events work with traders to create sustainable offerings; Food waste solutions; assessing the carbon footprint of meals, and supporting audiences to make sustainable choices. Chair Vikki Chapman (Live Nation) in conversation with Sam Walker (Biopak), Joseph McDonnell (Klimato), Mark Laurie (NCASS) and Bonnie May (Eat To The Beat).
14:05- Climate justice: Making sustainability accessible at events. Julie's Bicycle and Attitude is Everything explore how sustainability initiatives at outdoor events can create sustainable events without exacerbating inequality.
14:30- Getting the message Across: In collaboration with Music Declares Emergency: Lewis Jamieson (MDE) chairs the panel with guests, Betsy Reed (The Bulb), Hannah Cox (Betternotstop) and Climate Live's Francis Fox: exploring mainstreaming climate awareness through cultural engagement; good and bad climate messaging and the potential for the music industry to deliver gains beyond the sector.
15:15- Exclusive Launch: Environmental Chapter of the Purple Guide: Chris Johnson (Vision: 2025) and Steve Heap (AFO / EIF) present the new chapter for The Purple Guide, sharing best practice in environmental sustainability for events in the industry-trusted publication.
15:30- A break in panels for the ever-popular Green Supplier & Innovation Award in collaboration with The Showman's Show: three Showman's Show exhibitors selected as finalists present their innovation to help reduce environmental impacts to judges and the delegates with live voting and award presented by Johnny Lance, Event Director, The Showman's Show.
15:55- Powerful Thinking presents: Rethinking Battery Deployments. Two decades after the introduction of hybrid solutions to the events market, this panel hosted by Powerful Thinking's Chair Tim Benson, explores changes in how battery solutions are deployed across the live sector, with contributions from Arena Group and Power Logistics.
16:20- Best of the Summer: Green Success Stories. John Rostron (Association Independent Festivals) introduces guests from UK outdoor festivals who have led the way through the 2023 season with campaigns to reduce the environmental impacts of events.
The afternoon will finish with the customary networking drinks, so that delegates can discuss their days learning, with refreshments provided by Purity Brewing Co. and ArrowTown.