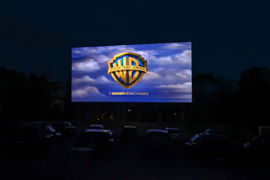 Visions has announced the launch of a new Drive-In Cinema package which enables event organisers, hotels, venues, and theme parks the opportunity to deliver screenings to a live audience whilst adhering to government social distancing regulations.

Its technical team has over 20 years' experience of delivering live events working at locations across the country and has unparalleled technical expertise in creative production at both indoor and outdoor events.

Using the latest 3.9mm outdoor LED, offering the highest resolution LED for day or night screenings, Visions will provide the complete solution including infrastructure design, power and print, along with full operational and technical support to create the ultimate drive-in experience. All the equipment is stocked in-house and we can work to very quick turnarounds.

Chris Norman, CEO said, "We know that event organisers and venues are looking for additional revenue-generating ideas through creative solutions and need to hold safe, cost-effective events. If a venue has larger grounds and is easily accessible the Drive-In package is a perfect platform to do this".