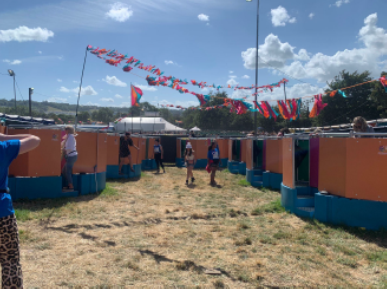 The team behind the UK's first squat-and-go women's urinal, PEEQUAL, has once again taken national and international media by storm with television presenter, Lauren Laverne, showcasing these new women's urinals in her coverage of Glastonbury for The One Show. After a jam-packed summer at some of the nation's favourite music festivals, PEEQUAL returns to The Showman's Show to showcase its brand new design so you can see for yourself what all the fuss is about.
Women wait longer than men just to use the toilet because they don't have access to equal facilities. That's where PEEQUAL comes in. The queue busting, touch free, and open air design gets the 90% of women who just need to pee out of the long portable toilet queue and back to the events they love!
As well as speeding up the process, the gender equaliser facilities provide equal access to facilities for women. As a dedicated area for women that is staffed, PEEQUAL is an additional safe space at events to increase safety. As a sustainable provider, the patented flat-pack design means you can fit more units onto an articulated lorry than any other portable toilet provider and the urinals themselves are made from recycled ocean plastics that can be reheated and reshaped when damaged to reduce waste and use of raw plastic materials. Combined this makes PEEQUAL one of the most sustainable portable toilets on the market and helps to negate the potentially negative environmental impact of events.
Check out PEEQUAL and meet the team on Avenue A, Stand 126.